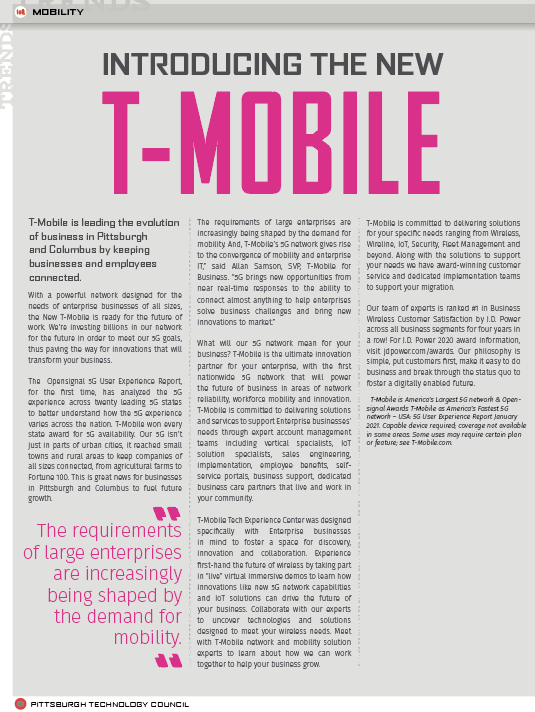 T-Mobile is leading the evolution of business in Pittsburgh and Columbus by keeping businesses and employees connected.
With a powerful network designed for the needs of enterprise businesses of all sizes, the New T-Mobile is ready for the future of work. We're investing billions in our network for the future in order to meet our 5G goals, thus paving the way for innovations that will transform your business.
The Opensignal 5G User Experience Report, for the first time, has analyzed the 5G experience across twenty leading 5G states to better understand how the 5G experience varies across the nation. T-Mobile won every state award for 5G availability. Our 5G isn't just in parts of urban cities, it reached small towns and rural areas to keep companies of all sizes connected, from agricultural farms to Fortune 100. This is great news for businesses in Pittsburgh and Columbus to fuel future growth.
The requirements of large enterprises are increasingly being shaped by the demand for mobility.
The requirements of large enterprises are increasingly being shaped by the demand for mobility. And, T-Mobile's 5G network gives rise to the convergence of mobility and enterprise IT," said Allan Samson, SVP, T-Mobile for Business. "5G brings new opportunities from near real-time responses to the ability to connect almost anything to help enterprises solve business challenges and bring new innovations to market."
What will our 5G network mean for your business? T-Mobile is the ultimate innovation partner for your enterprise, with the first nationwide 5G network that will power the future of business in areas of network reliability, workforce mobility and innovation. T-Mobile is committed to delivering solutions and services to support Enterprise businesses' needs through expert account management teams including vertical specialists, IoT solution specialists, sales engineering, implementation, employee benefits, self-service portals, business support, dedicated business care partners that live and work in your community.
T-Mobile Tech Experience Center was designed specifically with Enterprise businesses in mind to foster a space for discovery, innovation and collaboration. Experience first-hand the future of wireless by taking part in "live" virtual immersive demos to learn how innovations like new 5G network capabilities and IoT solutions can drive the future of your business. Collaborate with our experts to uncover technologies and solutions designed to meet your wireless needs. Meet with T-Mobile network and mobility solution experts to learn about how we can work together to help your business grow.
T-Mobile is committed to delivering solutions for your specific needs ranging from Wireless, Wireline, IoT, Security, Fleet Management and beyond. Along with the solutions to support your needs we have award-winning customer service and dedicated implementation teams to support your migration.
Our team of experts is ranked #1 in Business Wireless Customer Satisfaction by J.D. Power across all business segments for four years in a row! For J.D. Power 2020 award information, visit jdpower.com/awards. Our philosophy is simple, put customers first, make it easy to do business and break through the status quo to foster a digitally enabled future.
T-Mobile is America's Largest 5G network & Opensignal Awards T-Mobile as America's Fastest 5G network – USA: 5G User Experience Report January 2021. Capable device required; coverage not available in some areas. Some uses may require certain plan or feature; see T-Mobile.com.