Choosing a college or career training program is arguably the most important decision high school seniors will make. Those choices will largely determine their networks of friends and contacts, and will heavily influence how, and with whom, they spend their adult lives personally and professionally. Thanks to Niche.com, a Strip District-based company whose mission is to make researching and enrolling in schools easy, transparent and free, deciding what to do following high school graduation, and where to do it, can be a more informed choice than ever. The site also has data on K-12 schools to help parents decide on the options for their children.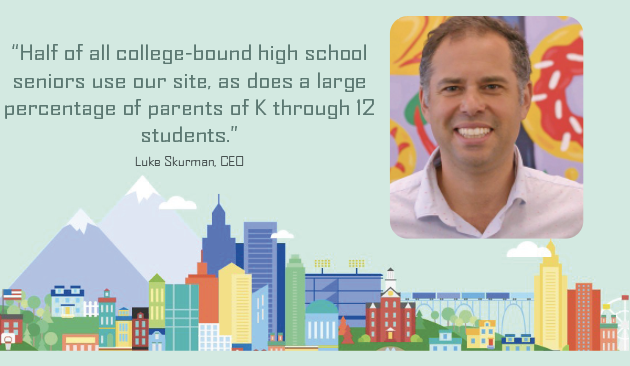 Niche.com, a technology company in Pittsburgh that took its current name in 2013, was founded in 2002 as College Prowler by Luke Skurman, who still serves as CEO. Skurman, a San Francisco native who came to Pittsburgh to attend Carnegie Mellon University more than 20 years ago and never left, calls Niche.com "the largest platform for college and K-12 education data." Prior to moving to its current location, the company had offices on Ellsworth Avenue in Shadyside near Crazy Mocha Coffee after moving from its initial space in the Design Center at the corner of Baum Boulevard and Morewood Avenue.
What makes the company stand out is the combination of quantitative and qualitative content it offers on colleges and universities, career training schools, and primary and secondary schools nationwide. According to Skurman, "Half of all college-bound high school seniors use our site, as does a large percentage of parents of K through 12 students." All totaled, the site attracts 100 million visits a year for viewing and analyzing data from 140,000 educational institutions.
Site content comes from public data sources such as the U.S. Department of the Census, school systems and municipalities, as well as from trade associations, think tanks and self-reporting from users (i.e., educational institutions) who want to increase their visibility among potential students and their parents.
To optimize the user experience, Niche.com employs 130 people full-time. One-third of them are in sales and account management to attract new clients (learning institutions and advertisers) and maintain relationships with established clients. Another one-third of the team focuses on product management and engineering and the other one-third concentrates on operations, analytics, accounting, finance and human resources.
Team members also contribute to the website's blog page as do freelancers that the company hires to provide such content.
Niche.com, which recently received $35 million in venture capital funding, generates revenue by charging schools a fee to post detailed data to the website, as well as by selling advertising to "brands," as Skurman refers to companies that market their products or services, such as test preparation, to students and their parents.
The company will use the funding to enhance its product development, sales and marketing activities, as well as expand the website's capabilities to schedule campus visits and manage the application process. To meet those goals, Niche.com will be hiring 20 to 30 people by the end of this year and will hire "at an aggressive pace next year," according to Skurman.
"We are growing fast and are capital efficient," he adds.
The number of visitors to Niche.com has been flat year-over-year because, according to Skurman, "People are not doing as much searching now and are staying put with their choices" as COVID-19 continues to affect people's financial decisions.
In preparation for a future that offers an expanded number of options for people to obtain the training they need to meet their professional goals at various stages in life, Niche.com will be including more data related to career training schools, online learning such as boot camps, and other kinds of certification programs in a multitude of fields.
Read the entire issue of TEQ here: