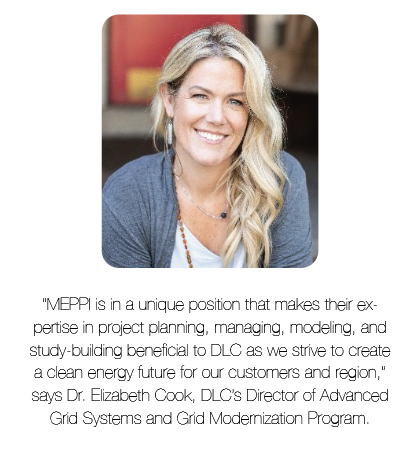 Pittsburgh's long history in energy development dates back to 1886 when George Westinghouse founded Westinghouse Electric & Manufacturing Company. Since then, the region has developed and maintained a solid base of technical talent and experience with delivering innovative solutions to the energy industry. That level of innovation has been strengthened by the region's institutions of higher learning.
When it comes to practical applications of knowledge related to clean energy technologies, one of the region's leading examples is a collaboration between Mitsubishi Electric Power Products, Inc. (MEPPI) in Warrendale and Downtown Pittsburgh-based Duquesne Light Company (DLC). Originally a joint venture between Westinghouse Electric and Mitsubishi Electric nearly 40 years ago, MEPPI manufactures products and technologies that support the dispatch of distributed energy resources (DERs) which refer to small-scale power generation and storage systems that are connected to the electricity grid at various points. DERs are decentralized and diverse in nature, providing electricity from renewable sources, including solar photovoltaic (PV) systems and wind turbines, as well as energy storage systems.
"The electric power industry is experiencing an energy transition that will require all stakeholders to allocate significant resources and investments towards grid modernization and clean power generation, including the deployment of distributed energy resources like solar and wind," says Tricia Breeger, MEPPI's CEO. "Our collaboration with DLC is a key part of MEPPI's comprehensive strategy aimed at helping our customers meet increased demand, grid stability, and resilience, while achieving their decarbonization and sustainability goals. We are eager to partner with customers, like DLC, to demonstrate our value by providing the solutions and services they need, when they need it."
Over the past year, DLC and MEPPI have partnered on the exploration of innovative solutions to modernize the electrical grid. The partnership has evolved with each new initiative ranging from consulting to supplying products that help DLC plan for the continued growth of clean energy technologies like solar, wind, electric vehicles, and battery energy storage systems.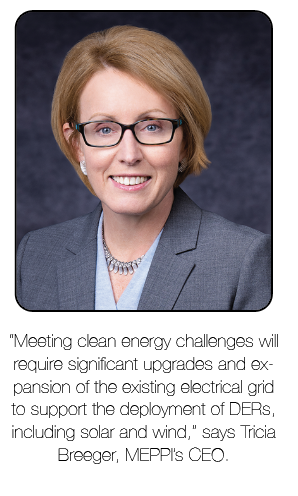 "MEPPI is in a unique position that makes their expertise in project planning, managing, modeling, and study-building beneficial to DLC as we strive to create a clean energy future for our customers and region," says Dr. Elizabeth Cook, DLC's Director of Advanced Grid Systems and Grid Modernization Program. "As DLC creates news plans focusing on energy efficiency and clean energy integration, we seek expertise and support from organizations like MEPPI to deploy important pilot projects and enable critical learning to help drive our clean energy vision forward."
DLC is working with MEPPI and the University of Pittsburgh to model, build, and test a real-time digital simulator which will model real-time circuit performance in response to different scenarios. The platform is testing different cases that may occur when renewable energy is added to the distribution system to ensure that DLC can maintain grid safety and reliability.
With MEPPI's expertise on battery systems, DLC is collaborating with the company to inform rural power distribution pilot projects in which DLC is integrating batteries with rural circuits, as well as other battery projects that focus on using clean energy technologies to provide more affordable electricity without causing any harm to the grid. As DLC prepares for a clean energy future, its partnership with MEPPI has provided key insights about advanced grid technologies required to enable clean energy technologies to interact with the existing grid while maintaining safe, reliable operations.
According to Cook, "This knowledge is necessary to ensure that the quality of energy exchange does not diminish with the integration of new devices. Additionally, this collaboration continues to teach engineers within DLC about new technologies, their behavior, and what to expect as they get introduced to the grid."
As cleaner energy technologies are added to the edge of the grid, DLC is also working with MEPPI to conduct studies to make sure that protection is properly coordinated and implemented for the safety of crews and customers alike.
DLC will continue to collaborate with MEPPI as Cook and her team further evaluate new and innovative grid technologies that will improve customer service and support a clean energy future.
Creating Innovative Ways to Use Natural Gas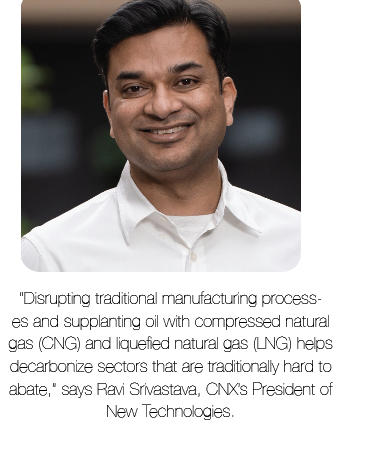 On another section of the energy grid, Canonsburg-based CNX Resources Corp. is continually developing ways for its low emission Appalachian natural gas to create a more sustainable and equitable future for citizens of the broader Appalachia region and beyond.
Besides applying proprietary technology to customers' needs and collaborating with external partners to reduce emissions across the value chain, the company created a New Technologies business unit to expand the use of low emission natural gas feedstocks for sustainable applications in plastics manufacturing, transportation fuels, and general manufacturing.
Product innovations include using the constituents of natural gas to fast-track emission reductions associated with creating, transporting, and using everyday products. "Disrupting traditional manufacturing processes and supplanting oil with compressed natural gas (CNG) and liquefied natural gas (LNG) helps decarbonize sectors that are traditionally hard to abate," says Ravi Srivastava, CNX's President of New Technologies.
According to Srivastava, "We are working diligently with local and national partners on process innovation, product innovation to lower our emission footprint. Our activities include deploying Appalachia's first natural gas powered electric frac (e-frac) fleet, our patent pending HydroPurge technology that eliminates admissions from pigging operations [removing high viscosity fluids from pipes to make sure there are no obstructions] and harvesting waste energy for zero-emission electricity to drive additional clean energy processes in the region."
In Ohio, CNX's ultra-low emission intense natural gas will be used as a feedstock for Newlight Technologies' biodegradable manufacturing facility. In southern West Virginia, CNX is providing low emission Appalachian natural gas and carbon sequestration services to manufacture clean ammonia alongside Adams Fork Energy. These partnerships and programs have various implementation timelines.
Srivastava and his team are promoting the New Technologies unit's capabilities by attending conferences, on social media and through CNX's Positive Energy Hub news platform that explains how CNX is brining energy education, advocacy, and engagement to the communities it serves and those it hopes to serve in the future.
Making the Case for Energy Innovation
Sustainable Pittsburgh, a nonprofit established 25 years ago to build the knowledge, perspective, and ability needed to create a better tomorrow for the region, is communicating the necessity and benefits of significantly scaling up the use of renewable energy as part of the region's energy mix, among other solutions for a sustainable future. "There's a business case for equitable multi-sector decarbonization," says Joylette Portlock, Executive Director. "There are tremendous financial incentives for businesses to decrease their carbon footprint, as well as encouragement from employees, customers, and community residents to use cleaner energy."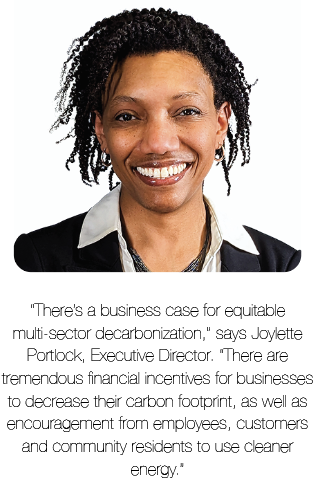 The potential impact of creating and using cleaner energy sources is shown in a graph of projected national cost savings and decreased mortality rates because of improved practices. With the Pittsburgh region having approximately 1% of the nation's population, by 2050 the area could experience 2,600-4,100 fewer deaths related to energy exploration, production, and usage, and average annual savings of $770 million to $1.2 billion in energy and social costs, including healthcare.
Sustainable Pittsburgh's thought leadership for a better energy future is characterized by its CEOs for Sustainability partnership. This group of business leaders is implementing solutions and championing the benefits of decarbonization while developing opportunities for equity in reaping the benefits of a new energy economy. Periodic roundtables focus on different topics, and the next C-Suite Summit is scheduled for mid-November.
Another Path for Progress
Warrendale-based SAE International (formerly the Society of Automotive Engineers), is the world's largest mobility standards development organization that, by year's end will offer a comprehensive new training program and a certification program. The training program is related to the full lifecycle of the electric vehicle (EV) battery and the separate certification program will accredit individuals to maintain EV charging equipment.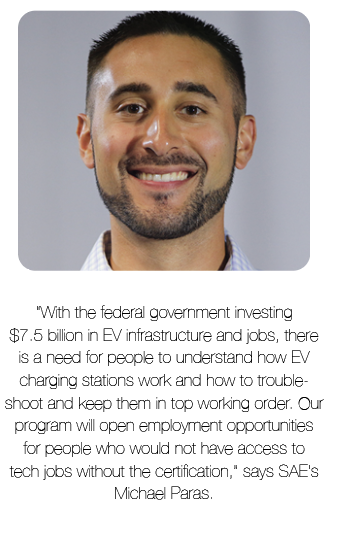 SAE's 200-hour on-demand training program will consist of more than 20 individual training courses that will prepare engineers and technicians to work with lithium ion (LI) batteries used in EVs. Developed in cooperation with EIT InnoEnergy, the curriculum is focused on teaching students about the complete life cycle of the battery – raw materials, active materials, cell manufacturing, battery packs and systems, application and integration, and recycling.
"Unlike other training courses that involve theory-based learning this program is highly focused on practical, application-based skills that can be used in the field," says Michael Paras, SAE's Manager of Business Development, Commercial Partnerships & Product.
Another program that SAE is developing will certify technicians to maintain and repair EV charging stations. Technicians will obtain the necessary skills at a community college or proprietary post-secondary school and SAE will administer the exam and award a credential to students who pass.
"With the federal government investing $7.5 billion in EV infrastructure and jobs, there is a need for people to understand how EV charging stations work and how to troubleshoot and keep them in top working order. Our program will open employment opportunities for people who would not have access to tech jobs without the certification." Paras is quick to point out that the program is not a certification for electricians and that maintenance and operations is specialty of its own.
With the abundance of energy-related products, programs, and expertise in the Pittsburgh region, area companies across all sectors should have an easier time preparing for a sustainable energy future than many of their counterparts in other areas of the country and around the world.