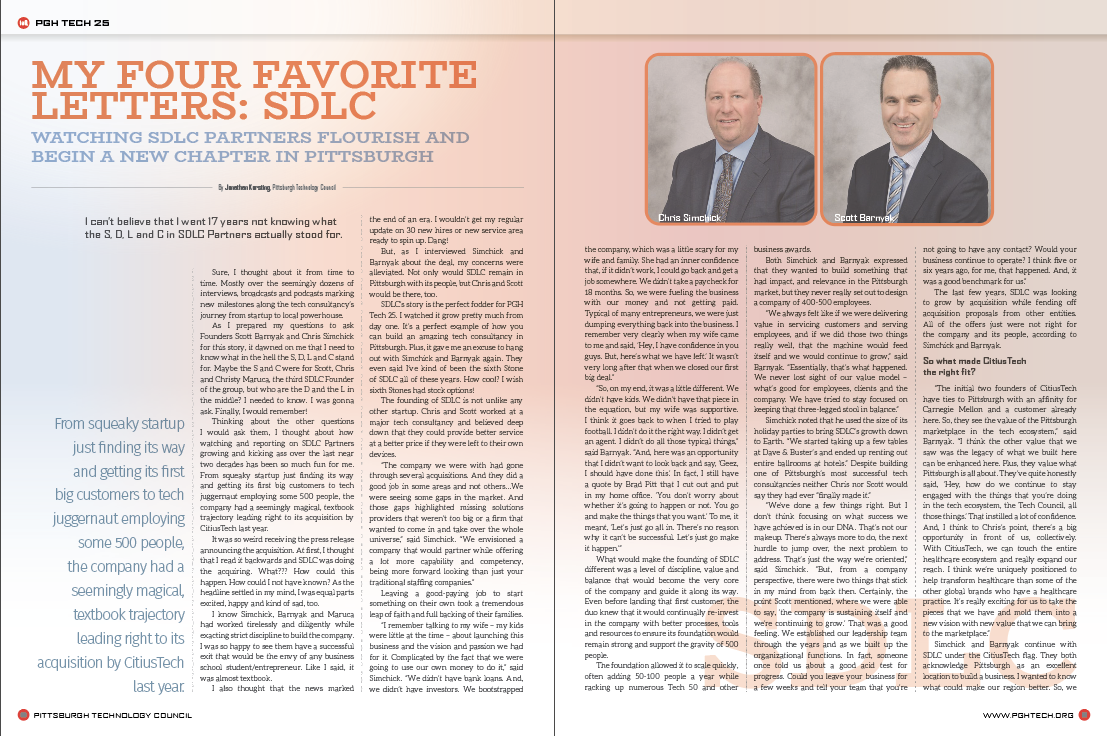 I can't believe that I went 17 years not knowing what the S, D, L and C in SDLC Partners actually stood for.
Sure, I thought about it from time to time. Mostly over the seemingly dozens of interviews, broadcasts and podcasts marking new milestones along the tech consultancy's journey from startup to local powerhouse.
As I prepared my questions to ask Founders Scott Barnyak and Chris Simchick for this story, it dawned on me that I need to know what in the hell the S, D, L and C stand for. Maybe the S and C were for Scott, Chris and Christy Maruca, the third SDLC Founder of the group, but who are the D and the L in the middle? I needed to know. I was gonna ask. Finally, I would remember!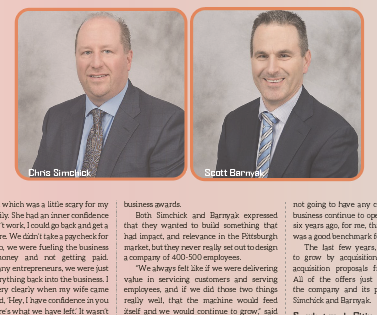 Thinking about the other questions I would ask them, I thought about how watching and reporting on SDLC Partners growing and kicking ass over the last near two decades has been so much fun for me. From squeaky startup just finding its way and getting its first big customers to tech juggernaut employing some 500 people, the company had a seemingly magical, textbook trajectory leading right to its acquisition by CitiusTech last year.
It was so weird receiving the press release announcing the acquisition. At first, I thought that I read it backwards and SDLC was doing the acquiring. What??? How could this happen. How could I not have known? As the headline settled in my mind, I was equal parts excited, happy and kind of sad, too.
I know Simchick, Barnyak and Maruca had worked tirelessly and diligently while exacting strict discipline to build the company. I was so happy to see them have a successful exit that would be the envy of any business school student/entrepreneur. Like I said, it was almost textbook.
I also thought that the news marked the end of an era. I wouldn't get my regular update on 30 new hires or new service area ready to spin up. Dang!
But, as I interviewed Simchick and Barnyak about the deal, my concerns were alleviated. Not only would SDLC remain in Pittsburgh with its people, but Chris and Scott would be there, too.
SDLC's story is the perfect fodder for PGH Tech 25. I watched it grow pretty much from day one. It's a perfect example of how you can build an amazing tech consultancy in Pittsburgh. Plus, it gave me an excuse to hang out with Simchick and Barnyak again. They even said I've kind of been the sixth Stone of SDLC all of these years. How cool? I wish sixth Stones had stock options!
The founding of SDLC is not unlike any other startup. Chris and Scott worked at a major tech consultancy and believed deep down that they could provide better service at a better price if they were left to their own devices.
"The company we were with had gone through several acquisitions. And they did a good job in some areas and not others…We were seeing some gaps in the market. And those gaps highlighted missing solutions providers that weren't too big or a firm that wanted to come in and take over the whole universe," said Simchick. "We envisioned a company that would partner while offering a lot more capability and competency, being more forward looking than just your traditional staffing companies."
Leaving a good-paying job to start something on their own took a tremendous leap of faith and full backing of their families.
"I remember talking to my wife – my kids were little at the time – about launching this business and the vision and passion we had for it. Complicated by the fact that we were going to use our own money to do it," said Simchick. "We didn't have bank loans. And, we didn't have investors. We bootstrapped the company, which was a little scary for my wife and family. She had an inner confidence that, if it didn't work, I could go back and get a job somewhere. We didn't take a paycheck for 18 months. So, we were fueling the business with our money and not getting paid. Typical of many entrepreneurs, we were just dumping everything back into the business. I remember very clearly when my wife came to me and said, 'Hey, I have confidence in you guys. But, here's what we have left.' It wasn't very long after that when we closed our first big deal."
"So, on my end, it was a little different. We didn't have kids. We didn't have that piece in the equation, but my wife was supportive. I think it goes back to when I tried to play football. I didn't do it the right way. I didn't get an agent. I didn't do all those typical things," said Barnyak. "And, here was an opportunity that I didn't want to look back and say, 'Geez, I should have done this.' In fact, I still have a quote by Brad Pitt that I cut out and put in my home office. 'You don't worry about whether it's going to happen or not. You go and make the things that you want.' To me, it meant, 'Let's just go all in. There's no reason why it can't be successful. Let's just go make it happen.'"
What would make the founding of SDLC different was a level of discipline, value and balance that would become the very core of the company and guide it along its way. Even before landing that first customer, the duo knew that it would continually re-invest in the company with better processes, tools and resources to ensure its foundation would remain strong and support the gravity of 500 people.
The foundation allowed it to scale quickly, often adding 50-100 people a year while racking up numerous Tech 50 and other business awards.
Both Simchick and Barnyak expressed that they wanted to build something that had impact, and relevance in the Pittsburgh market, but they never really set out to design a company of 400-500 employees.
"We always felt like if we were delivering value in servicing customers and serving employees, and if we did those two things really well, that the machine would feed itself and we would continue to grow," said Barnyak. "Essentially, that's what happened. We never lost sight of our value model –what's good for employees, clients and the company. We have tried to stay focused on keeping that three-legged stool in balance."
Simchick noted that he used the size of its holiday parties to bring SDLC's growth down to Earth. "We started taking up a few tables at Dave & Buster's and ended up renting out entire ballrooms at hotels." Despite building one of Pittsburgh's most successful tech consultancies neither Chris nor Scott would say they had ever "finally made it."
"We've done a few things right. But I don't think focusing on what success we have achieved is in our DNA. That's not our makeup. There's always more to do, the next hurdle to jump over, the next problem to address. That's just the way we're oriented," said Simchick. "But, from a company perspective, there were two things that stick in my mind from back then. Certainly, the point Scott mentioned, where we were able to say, 'the company is sustaining itself and we're continuing to grow.' That was a good feeling. We established our leadership team through the years and as we built up the organizational functions. In fact, someone once told us about a good acid test for progress. Could you leave your business for a few weeks and tell your team that you're not going to have any contact? Would your business continue to operate? I think five or six years ago, for me, that happened. And, it was a good benchmark for us."
The last few years, SDLC was looking to grow by acquisition while fending off acquisition proposals from other entities. All of the offers just were not right for the company and its people, according to Simchick and Barnyak.
So what made CitiusTech the right fit?
"The initial two founders of CitiusTech have ties to Pittsburgh with an affinity for Carnegie Mellon and a customer already here. So, they see the value of the Pittsburgh marketplace in the tech ecosystem," said Barnyak. "I think the other value that we saw was the legacy of what we built here can be enhanced here. Plus, they value what Pittsburgh is all about. They've quite honestly said, 'Hey, how do we continue to stay engaged with the things that you're doing in the tech ecosystem, the Tech Council, all those things.' That instilled a lot of confidence. And, I think to Chris's point, there's a big opportunity in front of us, collectively. With CitiusTech, we can touch the entire healthcare ecosystem and really expand our reach. I think we're uniquely positioned to help transform healthcare than some of the other global brands who have a healthcare practice. It's really exciting for us to take the pieces that we have and mold them into a new vision with new value that we can bring to the marketplace."
Simchick and Barnyak continue with SDLC under the CitiusTech flag. They both acknowledge Pittsburgh as an excellent location to build a business. I wanted to know what could make our region better. So, we can have more SDLCs spin out and employ lots of people solving really tough problems.
"We have this great idea environment. And there's lots of cool stuff coming out. Where we must get better as a tech community is helping other companies scale and build sustainable businesses. Not just create good ideas that somebody comes along and snags and takes out of our community," said Barnyak. "I think we can do more business with each other. Why do you have to go outside of our region to buy anything technology-oriented?"
"I think a piece that rings true for me is no matter how big or small you are, always be willing to listen to input and solicit input," said Simchick. "You'll be surprised where the best input comes from that you might not have thought about originally. Various sources can give you really interesting ideas and perspectives. You know, some of the organizations we've talked to in the past, they're not even on our business radar, but if they've solved a similar problem, and they have a method for solving it, and we can apply it to our business and solve it, that's highly valuable."
I left our interview really pumped up and excited for SDLC's future in Pittsburgh as part of CitiusTech. I'm ready to let go now. It's no longer the end of an era, but the beginning of a new chapter that I'm confident will engage us all. It's been an incredible journey. I was a sixth Stone reveling in all of the success but shielded from the challenges (hence no stock options), but cheering and in awe all the way.
Oh yeah, SDLC stands for Software Development Life Cycle Partners. Bet you thought that I forgot. Now you know! And Chris, Christy, and Scott…In my book, you definitely made it. And you helped Pittsburgh make it, too!