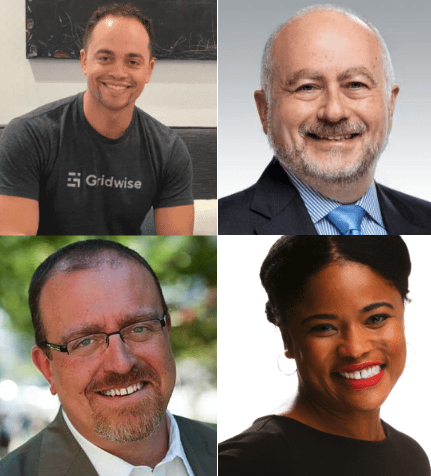 The Pittsburgh Technology Council (PTC) is pleased to announce that it approved Ingrid Cook of SHzoom, Ryan Green of Gridwise, Dr. Marc Malandro of The Chan Zuckerberg Initiative and Bernard Mongilio of CGI to its Board of Directors.
As Founder of Shzoom, Cook invented technology revolutionizing the way the world handles auto accidents. Its team of industry experts develops mobile and cloud-based solutions and services for companies who own vehicle fleet, take part in a self-insured retention programs and have high frequency, low-severity auto liability exposures.
Green is Co-Founder and CEO of Gridwise, a tech startup empowering essential gig-workers. Gridwise is creating a smarter mobility grid by empowering on-demand drivers, citie, and mobility stakeholders with mobility analytics solutions.
Malandro serves as the Vice President of Operations for Science at the Chan Zuckerberg Initiative, serving as part of the team to partner, support and build novel advances and tools to enable and accelerate biomedical research. Previously, Malandro was the Vice Chancellor for Technology Management and Commercialization and the Founding Director of the Innovation Institute at the University of Pittsburgh.
Serving as Senior Vice-President of operations for CGI's U.S. Great Lakes business unit, Mongilio leads CGI's Commercial and State and Local Government business in western Pennsylvania, Ohio, Indiana and Michigan. He has more than 35 years of diversified consulting and IT experience, 31 of which have been at CGI in a number of roles.
"We look forward to their leadership serving on the Board of Directors," said PTC Board Chairman Jason Wolfe, who is also CEO of Wolfe LLC. "We rely on innovators who work directly in Pittsburgh's technology industry to provide continuous direction for the PTC to best to serve its membership."
"We are thrilled to add these talented leaders to our Board of Directors," said PTC President and CEO Audrey Russo. "We continually shape our board to ensure that it reflects the composition of the Pittsburgh region's technology ecosystem. Ingrid, Ryan, Marc and Bernard all bring different insights, skillsets and energy to the Pittsburgh Technology Council."
See the entire Pittsburgh Technology Council Board of Directors list at: https://www.pghtech.org/about-us/board-of-directors.
Founded in 1983, the Pittsburgh Technology Council is a 501c6 non-profit membership organization representing southwestern Pennsylvania's technology industry. The PTC helps its 1,100 members succeed through a proven platform of Business Development, Talent Retention, Government Relations and Visibility Services. Learn more at www.pghtech.org.