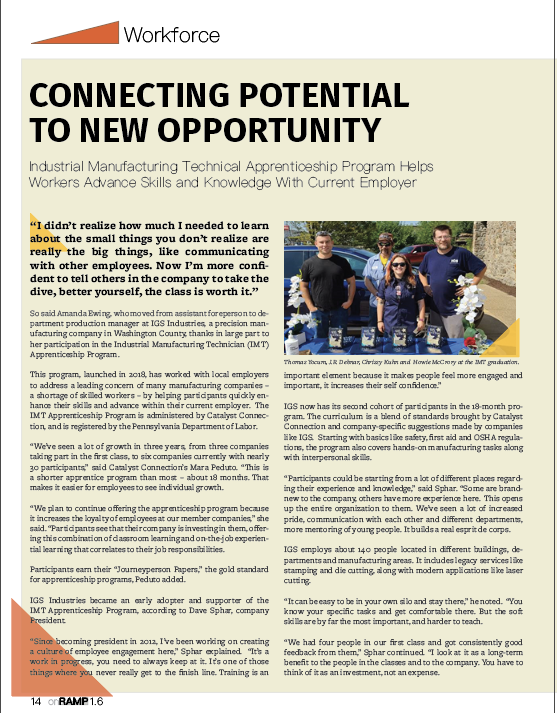 "I didn't realize how much I needed to learn about the small things you don't realize are really the big things, like communicating with other employees. Now I'm more confident to tell others in the company to take the dive, better yourself, the class is worth it."
So said Amanda Ewing, who moved from assistant foreperson to department production manager at IGS Industries, a precision manufacturing company in Washington County, thanks in large part to her participation in the Industrial Manufacturing Technician (IMT) Apprenticeship Program.
This program, launched in 2018, has worked with local employers to address a leading concern of many manufacturing companies – a shortage of skilled workers – by helping participants quickly enhance their skills and advance within their current employer. The IMT Apprenticeship Program is administered by Catalyst Connection, and is registered by the Pennsylvania Department of Labor.
"We've seen a lot of growth in three years, from three companies taking part in the first class, to six companies currently with nearly 30 participants," said Catalyst Connection's Mara Peduto. "This is a shorter apprentice program than most – about 18 months. That makes it easier for employees to see individual growth.
"We plan to continue offering the apprenticeship program because it increases the loyalty of employees at our member companies," she said. "Participants see that their company is investing in them, offering this combination of classroom learning and on-the-job experiential learning that correlates to their job responsibilities.
Participants earn their "Journeyperson Papers," the gold standard for apprenticeship programs, Peduto added.
IGS Industries became an early adopter and supporter of the IMT Apprenticeship Program, according to Dave Sphar, company President.
"Since becoming president in 2012, I've been working on creating a culture of employee engagement here," Sphar explained. "It's a work in progress, you need to always keep at it. It's one of those things where you never really get to the finish line. Training is an important element because it makes people feel more engaged and important, it increases their self confidence."
IGS now has its second cohort of participants in the 18-month program. The curriculum is a blend of standards brought by Catalyst Connection and company-specific suggestions made by companies like IGS. Starting with basics like safety, first aid and OSHA regulations, the program also covers hands-on manufacturing tasks along with interpersonal skills.
"Participants could be starting from a lot of different places regarding their experience and knowledge," said Sphar. "Some are brand-new to the company, others have more experience here. This opens up the entire organization to them. We've seen a lot of increased pride, communication with each other and different departments, more mentoring of young people. It builds a real esprit de corps.
IGS employs about 140 people located in different buildings, departments and manufacturing areas. It includes legacy services like stamping and die cutting, along with modern applications like laser cutting.
"It can be easy to be in your own silo and stay there," he noted. "You know your specific tasks and get comfortable there. But the soft skills are by far the most important, and harder to teach.
"We had four people in our first class and got consistently good feedback from them," Sphar continued. "I look at it as a long-term benefit to the people in the classes and to the company. You have to think of it as an investment, not an expense.
"I keep thinking about where we'll be in three or four years down the road as a company where employees are more engaged, with a stronger sense of pride. A company where they know we are investing in them, a fact that should make them feel important and valued."
One of those employees is Amanda Ewing, who said, "I am definitely being challenged. You don't just walk in and think this is a day off of work. You really have to pay attention, study, take quizzes – it's going back to school.
"A lot of it is good because the people in the class don't all have the same previous experience," Ewing said. "It shocked me, for example, to learn how many fire extinguishers we have around the facility, the safety and hazard symbols on barrels and trucks – things that are all around us but that you never appreciate why they're there or what they're meant to do. I'm surprised at how much I'm learning in the course about process, responsibilities of each department, how the manufacturing process works as a whole."
Since starting the apprenticeship program, she has grown within the company, not only in knowledge and acquired manufacturing skills but also in her responsibilities.
"Now, as a department production manager, I'm more confident that I can succeed," she said. "I can speak with my employees more effectively, I've become better at listening, and it all leads to improved relationships with my employees."
As a result, she has become an energetic proponent of the experience, noting, "I tell my new hires about the program and give them the encouragement to take part. I'm very appreciative of Dave making this program available to us. The next few months promise to be as beneficial as what we've done so far."
"This is the college of the manufacturing world," summarized Catalyst Connection's Peduto. "Apprentices in this program leave with nine nationally recognized credentials."
Catalyst Connection Launches DE&I Toolkit Geared Toward? ?Manufacturing Industry
Catalyst Connection has published a new on-line toolkit to guide manufacturers in their commitment to diversity, equity and inclusion (DE&I).
"It is the responsibility of business leaders everywhere to advance racial and ethnic equity throughout every aspect of their organization. This initiative takes a true commitment from not only leadership, but every individual across the organization," said Catalyst Connection President and CEO Petra Mitchell. "DE&I is no longer a matter of 'if and when,' but a priority and a commitment that businesses of all sizes and industries need to make moving forward.
Catalyst Connection launched its Leading Forward Toolkit, developed in partnership with Sustainable Pittsburgh. It was developed as an organizational guide to taking all the right steps toward a more diverse and inclusive workplace.
"Let this toolkit be your organizational guide to bringing your workforce together toward a common goal: advancing racial and ethnic equity within your company, and ultimately, the manufacturing industry as a whole," said Mitchell.
Keep reading for Catalyst Connection + Sustainable Pittsburgh's recommended phases toward creating and implementing your DE&I strategy at https://go.catalystconnection.org/DEItoolkit.