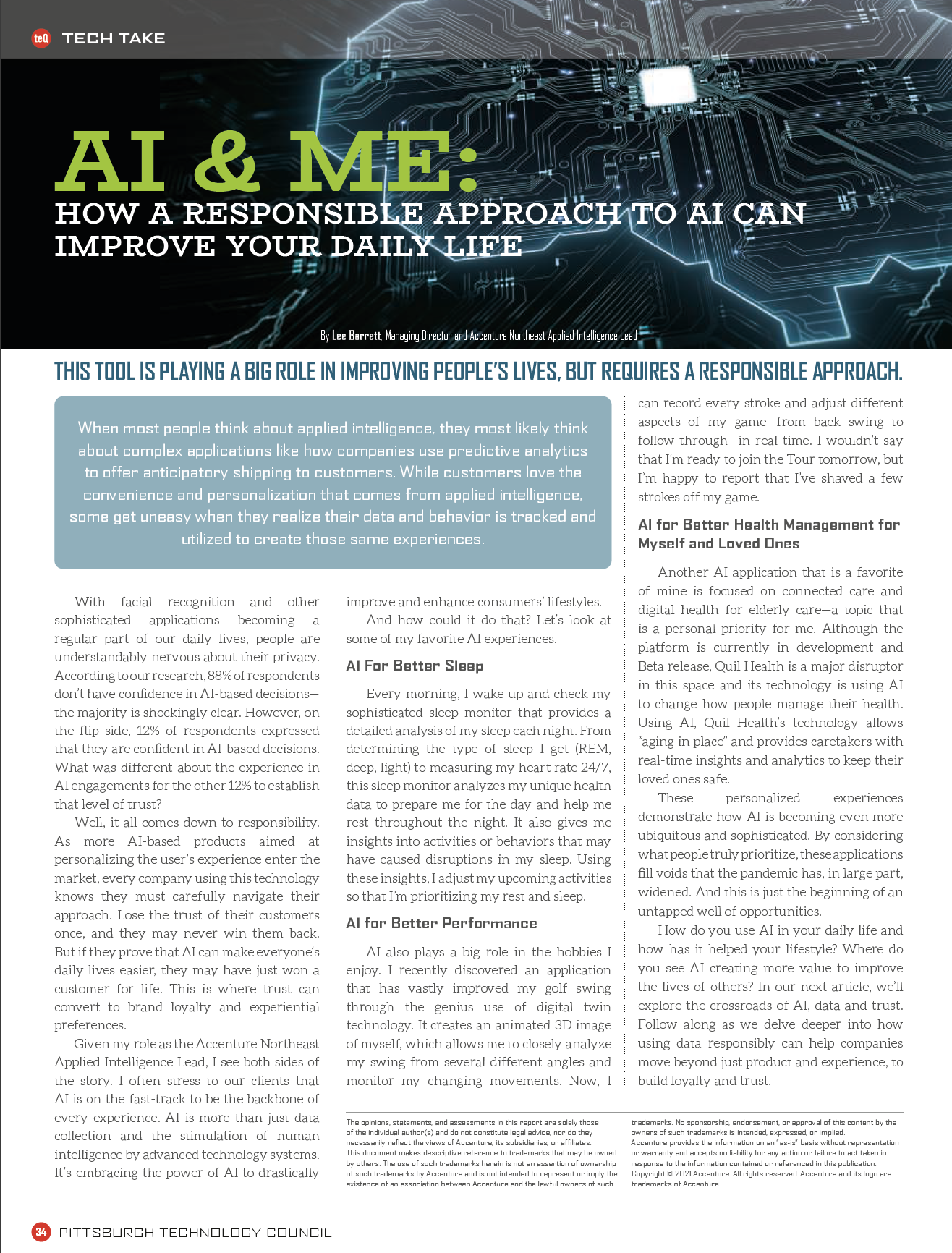 When most people think about applied intelligence, they most likely think about complex applications like how companies use predictive analytics to offer anticipatory shipping to customers. While customers love the convenience and personalization that comes from applied intelligence, some get uneasy when they realize their data and behavior is tracked and utilized to create those same experiences.
With facial recognition and other sophisticated applications becoming a regular part of our daily lives, people are understandably nervous about their privacy. According to our research, 88% of respondents don't have confidence in AI-based decisions—the majority is shockingly clear. However, on the flip side, 12% of respondents expressed that they are confident in AI-based decisions. What was different about the experience in AI engagements for the other 12% to establish that level of trust?
Well, it all comes down to responsibility. As more AI-based products aimed at personalizing the user's experience enter the market, every company using this technology knows they must carefully navigate their approach. Lose the trust of their customers once, and they may never win them back. But if they prove that AI can make everyone's daily lives easier, they may have just won a customer for life. This is where trust can convert to brand loyalty and experiential preferences.
Given my role as the Accenture Northeast Applied Intelligence Lead, I see both sides of the story. I often stress to our clients that AI is on the fast-track to be the backbone of every experience. AI is more than just data collection and the stimulation of human intelligence by advanced technology systems. It's embracing the power of AI to drastically improve and enhance consumers' lifestyles.
And how could it do that? Let's look at some of my favorite AI experiences.
AI For Better Sleep
Every morning, I wake up and check my sophisticated sleep monitor that provides a detailed analysis of my sleep each night. From determining the type of sleep I get (REM, deep, light) to measuring my heart rate 24/7, this sleep monitor analyzes my unique health data to prepare me for the day and help me rest throughout the night. It also gives me insights into activities or behaviors that may have caused disruptions in my sleep. Using these insights, I adjust my upcoming activities so that I'm prioritizing my rest and sleep.
AI for Better Performance
AI also plays a big role in the hobbies I enjoy. I recently discovered an application that has vastly improved my golf swing through the genius use of digital twin technology. It creates an animated 3D image of myself, which allows me to closely analyze my swing from several different angles and monitor my changing movements. Now, I can record every stroke and adjust different aspects of my game—from back swing to follow-through—in real-time. I wouldn't say that I'm ready to join the Tour tomorrow, but I'm happy to report that I've shaved a few strokes off my game.
AI for Better Health Management for Myself and Loved Ones
Another AI application that is a favorite of mine is focused on connected care and digital health for elderly care—a topic that is a personal priority for me. Although the platform is currently in development and Beta release, Quil Health is a major disruptor in this space and its technology is using AI to change how people manage their health. Using AI, Quil Health's technology allows "aging in place" and provides caretakers with real-time insights and analytics to keep their loved ones safe.
These personalized experiences demonstrate how AI is becoming even more ubiquitous and sophisticated. By considering what people truly prioritize, these applications fill voids that the pandemic has, in large part, widened. And this is just the beginning of an untapped well of opportunities.
How do you use AI in your daily life and how has it helped your lifestyle? Where do you see AI creating more value to improve the lives of others? In our next article, we'll explore the crossroads of AI, data and trust. Follow along as we delve deeper into how using data responsibly can help companies move beyond just product and experience, to build loyalty and trust.
The opinions, statements, and assessments in this report are solely those of the individual author(s) and do not constitute legal advice, nor do they necessarily reflect the views of Accenture, its subsidiaries, or affiliates.
This document makes descriptive reference to trademarks that may be owned by others. The use of such trademarks herein is not an assertion of ownership of such trademarks by Accenture and is not intended to represent or imply the existence of an association between Accenture and the lawful owners of such trademarks. No sponsorship, endorsement, or approval of this content by the owners of such trademarks is intended, expressed, or implied.
Accenture provides the information on an "as-is" basis without representation or warranty and accepts no liability for any action or failure to act taken in response to the information contained or referenced in this publication.
Copyright © 2022 Accenture. All rights reserved. Accenture and its logo are trademarks of Accenture.