As the number of people receiving a COVID-19 vaccine increases, workplaces will get back to "normal." In preparing for that occurrence, business owners and managers in organizations of all sizes should consider the psychological and physical aspects of making a smooth transition from remote to onsite work.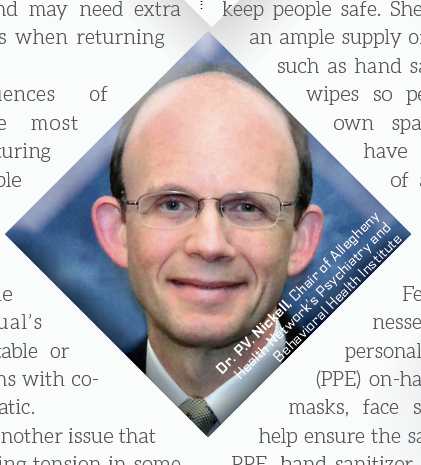 "Most people will be comfortable going back to the office and being with co-workers they haven't seen in a while," says Dr. P.V. Nickell, Chair of Allegheny Health Network's Psychiatry and Behavioral Health Institute, and a Clinical Professor of Psychiatry in Drexel University's College of Medicine. "My concern is that people will be processing different kinds of emotions after a tumultuous year, and managers need to be mindful of how people's experiences may affect their job performance and interactions with co-workers and be understanding of people's feelings."
Dr. Nickell points out that many people have lost family members or friends to coronavirus or may themselves have been ill. Those individuals may still be grieving about their losses or may be breathing sighs of relief that they overcame the infection while others may deny that the disease is real and will make light of others' emotions or experiences.
Maintaining a safe workplace is a combination of persistence, discipline and common sense.
An additional consideration is substance abuse. That's because many people have resumed or begun excessive use of alcohol or drugs in the absence of workplace urine and drug screenings, or of the accountability required in the daily presence of co-workers. As Dr. Nickell puts it, "Those individuals have lost the governor of having to be around other people" and may need extra attention from managers when returning to the workplace.
Although consequences of substance abuse are most significant in manufacturing environments where people must operate equipment safely, they can also inhibit productivity in office settings if the quality of an individual's work becomes unacceptable or if the person's interactions with co-workers become problematic.
Appropriate dress is another issue that Dr. Nickell foresees causing tension in some workplaces. "As a result of the pandemic, we dress more casually than we used to, and people may need to be reminded that what they wore while working remotely may not be appropriate for the office."
Although Dr. Nickell characterizes COVID-19's impact on the Pittsburgh region as "medium" compared to other parts of the country, he recommends that business owners and managers "be open and aware" of psychological and medical issues that could affect performance and morale.
Safeguarding Physical Health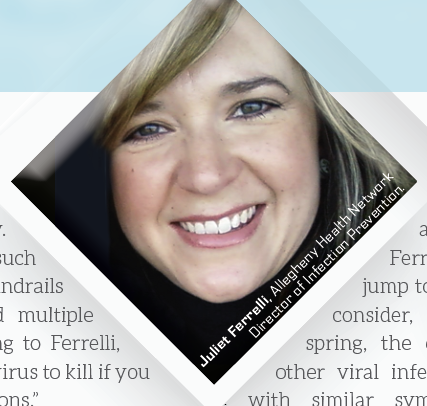 On a parallel track with making sure people's mental states are conducive to maintaining a productive workplace is the need to reconfigure workspaces for minimizing the spread of coronavirus.
"Walk the space and make sure the distance between people's workstations is at least six feet," says Juliet Ferrelli, Allegheny Health Network Director of Infection Prevention. She recommends "taking a headcount on a typical day to make sure people are adequately spaced apart, and immediately make any adjustments."
In manufacturing facilities where people stand close together on production lines, Ferrelli recommends installing partitions to keep people safe. She also suggests keeping an ample supply of disinfectant on-hand, such as hand sanitizer and individual wipes so people can clean their own spaces. Sanitizer should have an alcohol content of at least 60 percent to achieve maximum effectiveness.
Additionally, Ferrelli advises busi-nesses to keep plenty of personal protective equipment (PPE) on-hand. Such items include masks, face shields and gloves. To help ensure the safety of team members, PPE, hand sanitizer, disinfecting wipes and tissues should also be available to customers or clients, delivery people and others visiting a place of business. She also advises people to wear masks in common areas and to avoid socializing in break rooms until society achieves herd immunity, which is likely to occur in the third or fourth quarter of the year.
As for the types of masks which are most effective, Ferrelli recommends surgical ones because they are thicker than cotton masks. Regardless of mask type, she says that a mask should be worn above one's nose and extend below the chin for maximum protection of co-workers, customers or clients and others. The mask should also leave no gaps on one's sides, nor around the chin. A disposable mask should only be worn for a day, two if it stays dry.
When it comes to workspaces, they should be cleaned daily. High touch areas such as doorknobs and handrails should be disinfected multiple times a day. According to Ferrelli, "COVID-19 is an easy virus to kill if you take the right precautions."
Because the virus doesn't "like" paper items, mail handling can occur by accepting items while wearing gloves and quarantining envelopes and packages for 24 hours before opening them. Plastic totes and similar containers used by many manufacturers should be disinfected by someone who's wearing gloves before putting the cartons aside for 24 hours prior to opening.
If a team member becomes ill at work, the best course of action is to immediately separate him or her from others and provide a face mask if the individual is not already using one. The individual should then be sent home with instructions to follow up with his or her health care provider. You then want to clean the person's workspace, as well as wipe down objects in common areas the individual may have touched.
"Managers need to avoid causing panic," says Ferrelli. "We can't always jump to COVID- 19 and need to consider, especially heading into spring, the effects of allergies and other viral infections that can present with similar symptoms. You want to reassure staff that you are following all the recommendations to keep them safe. "
Team members exposed to COVID-19 outside the workplace should quarantine for 14 days, or the time recommended by their health care providers to ensure they are no longer infectious. If it's possible for an individual to work remotely during that time, Ferrelli advises the person's manager could consider that possibility.
"Maintaining a safe workplace is a combination of persistence, discipline and common sense."
Valuable Resources
For additional guidance, Ferrelli recommends visiting the Centers for Disease Control's website at https://bit.ly/3p7vk09
Allegheny Health Network offers return-to-work health guidance from medical experts. This fee-for-service clinical advice is available to any business regardless of whether the company is a Highmark policyholder. For more information, contact Maureen Goodfellow at 412.295.6445 or Maureen.Goodfellow@ahn.org