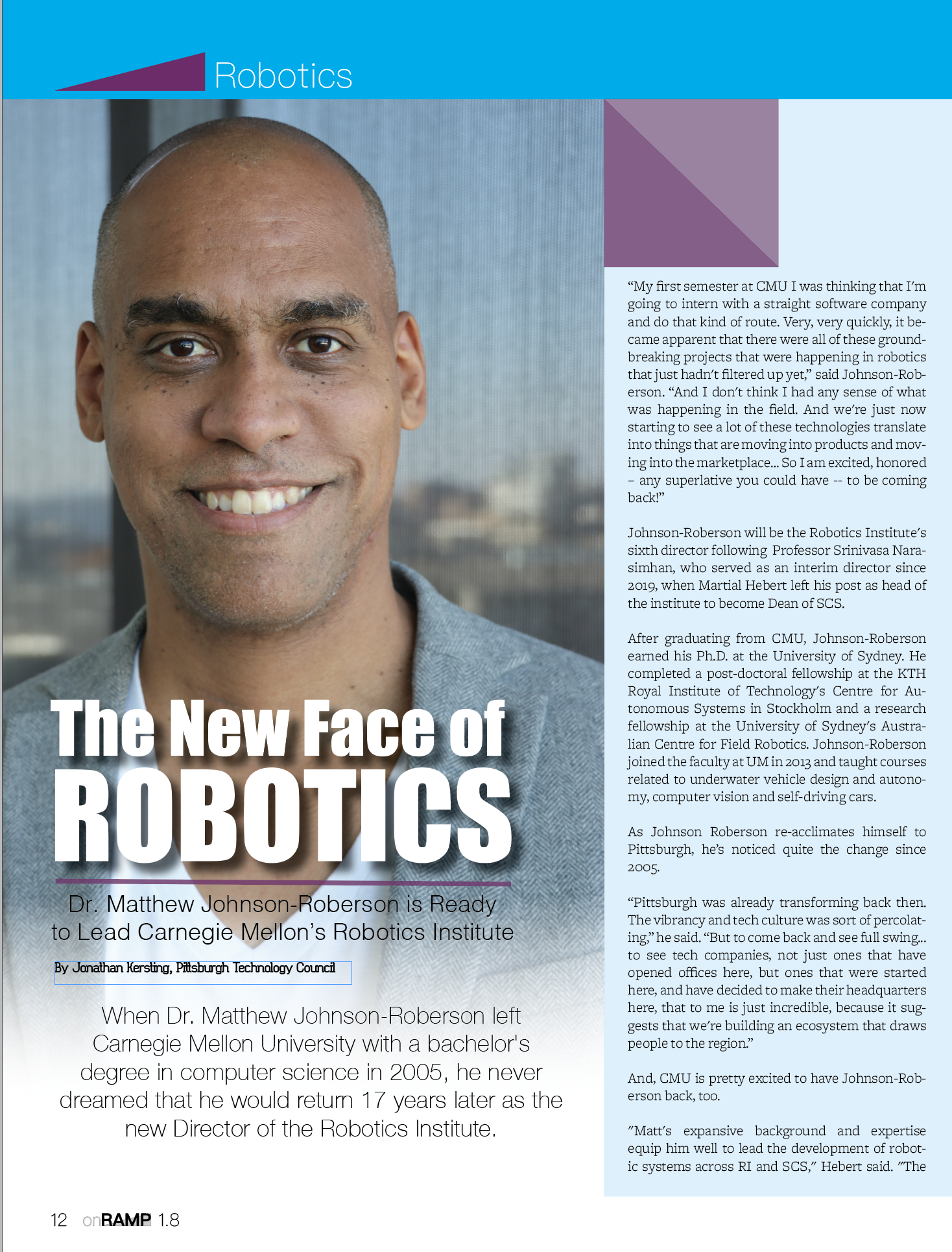 When Dr. Matthew Johnson-Roberson left Carnegie Mellon University with a bachelor's degree in computer science in 2005, he never dreamed that he would return 17 years later as the new Director of the Robotics Institute.
"My first semester at CMU I was thinking that I'm going to intern with a straight software company and do that kind of route. Very, very quickly, it became apparent that there were all of these groundbreaking projects that were happening in robotics that just hadn't filtered up yet," said Johnson-Roberson. "And I don't think I had any sense of what was happening in the field. And we're just now starting to see a lot of these technologies translate into things that are moving into products and moving into the marketplace… So I am excited, honored – any superlative you could have -- to be coming back!"
Johnson-Roberson will be the Robotics Institute's sixth director following Professor Srinivasa Narasimhan, who served as an interim director since 2019, when Martial Hebert left his post as head of the institute to become Dean of SCS.
After graduating from CMU, Johnson-Roberson earned his Ph.D. at the University of Sydney. He completed a post-doctoral fellowship at the KTH Royal Institute of Technology's Centre for Autonomous Systems in Stockholm and a research fellowship at the University of Sydney's Australian Centre for Field Robotics. Johnson-Roberson joined the faculty at UM in 2013 and taught courses related to underwater vehicle design and autonomy, computer vision and self-driving cars.
As Johnson Roberson re-acclimates himself to Pittsburgh, he's noticed quite the change since 2005.
"Pittsburgh was already transforming back then. The vibrancy and tech culture was sort of percolating," he said. "But to come back and see full swing...to see tech companies, not just ones that have opened offices here, but ones that were started here, and have decided to make their headquarters here, that to me is just incredible, because it suggests that we're building an ecosystem that draws people to the region."
And, CMU is pretty excited to have Johnson-Roberson back, too.
"Matt's expansive background and expertise equip him well to lead the development of robotic systems across RI and SCS," Hebert said. "The Robotics Institute, the School of Computer Science and the entire Carnegie Mellon community are thrilled to welcome Matt back to campus and excited to work with him."
CMU Founders University Research Professor and robotics pioneer Dr. Red Whittaker called Johnson-Roberson a "technological adventurer" and said the enthusiasm and determination with which he devoted himself to his projects impressed him.
Johnson-Roberson knows there is a lot of work to be done but is excited to build on such an internationally recognized foundation. One of his priorities is to make the field of robotics more accessible.
"I think that the real key to it is to continue to bring new people in it, right? And so, one of the beautiful things about Carnegie Mellon is that every year you get this new crop of people with new ideas, new energy, and then I think the way that we continue to grow this is use that and build up the ecosystem here," he said.
"You diffuse that into the Pittsburgh community, right? So, you train people, you give them the resources and the networks and the connections to build things. And then you sort of unleash them on the world. When you think about things companies need and what research projects need to be successful, right, they need access to capital, they need good ideas, but the thing that they need more than any of that is talent."