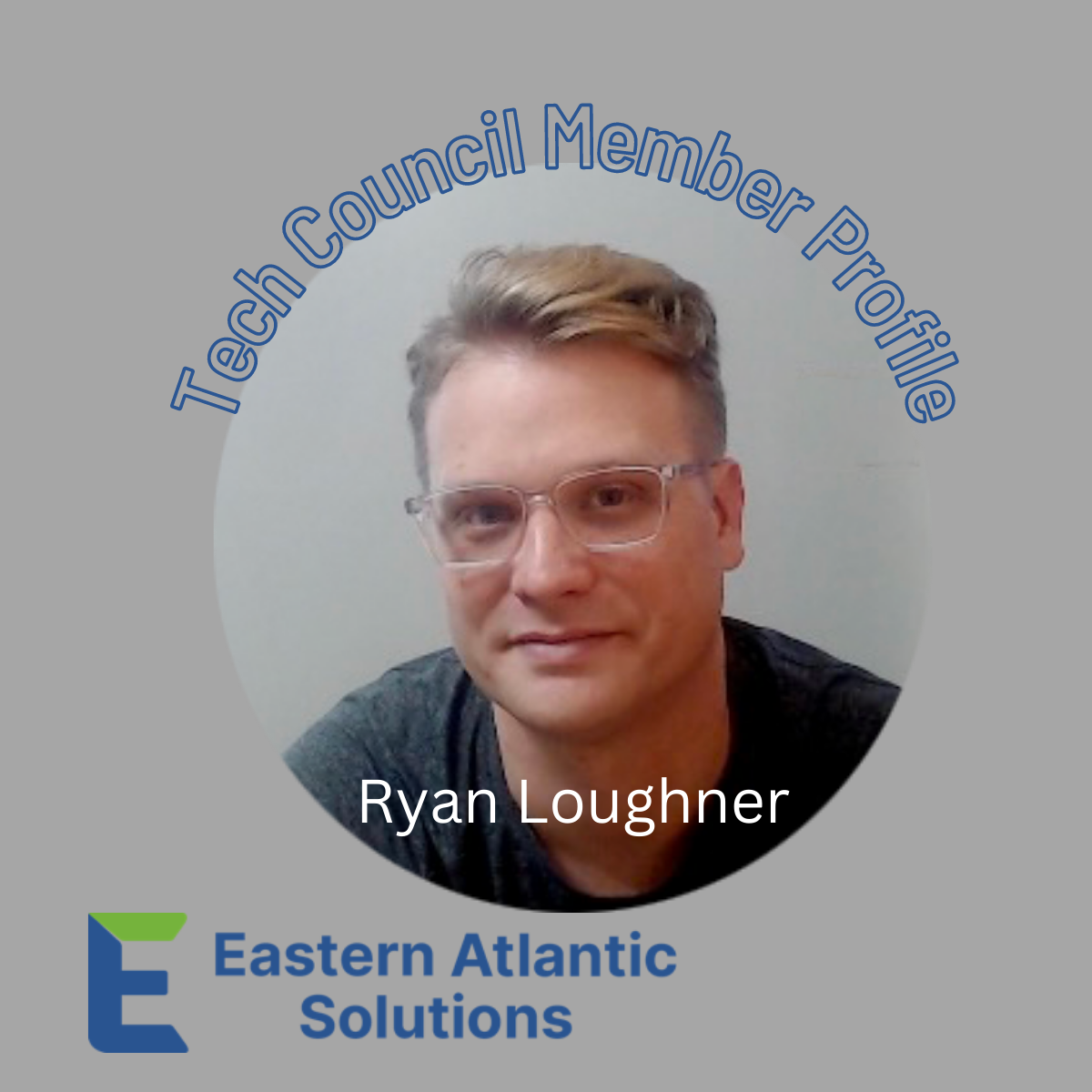 Ryan Loughner is the founder of Eastern Atlantic Solutions, a company that creates software solutions, specializing in custom mobile, line of business and e-commerce solutions.
Ryan got into tech at a young age. When he was 12, he took his first programming course in BASIC, and then took courses in C++ all through high school. Going into college Ryan knew he wanted to solve challenging problems with technology, so after he graduated, he landed his first job for a government contractor as a Java developer, and the rest is history. We wanted to know more about Ryan and his new company. Here's what he had to say:
Tech Council: What was the inspiration to start the company?
So, I've worn many hats throughout my career, sat on both sides of the table. I've held various developer roles to eventually being an architect, and I was also a project manager. I've had the opportunity to witness the good and the bad, what works and what could be better. All those experiences helped me sculpt, I guess what I'd call my vision of excellence, you know, the expectation a team should have for themselves. But not only that, but cultivate an environment that empowers the team to build upon that standard. All in effort to make themselves more well-rounded, and to enhance the quality of life, of business, for our clients. I'd say that would be my inspiration – setting a standard and empowering people to grow, to learn new skills, then reshape the standard, while solving for this region's technical challenges. Whether it's legacy application modernization, or a greenfield project, I want my company involved to see it get completed correctly and on time.
Tech Council: Tell us about your core competencies and specialties.
My core competencies in regard to tech are in full-stack product development. Whether it's a custom internal line of business application, mobile application or a public-facing web application, I'm well-equipped to deliver a brand new solution or take on an existing application. Working on greenfield applications is always fun, but there's also an equal level of excitement and gratification working on a legacy application modernization project. The technologies I use are variations of the .NET and MERN stacks, with a focus on having a clean and efficient infrastructure on day 1 – I want it as green as possible. With that said, there's another side to this industry that's just as important and it couldn't be further away from technology. And that's people. Yea I know, that sounds so cliché, guilty as charged, but it's true. I could have all the skills and knowledge and know how to deliver super cool and complex solutions, but it means absolutely nothing if I can't take action or make decisions (the non-technical ones), or interact with people. At the end of the day, that's where we're at, that's what we are – people helping people. Besides all of that, I'm not bad at making homemade spaghetti sauce.
Tech Council: Any tech trends that you are paying attention to as we head toward 2023?
As far as tech trends, I'm keeping an eye on a few topics. Sustainable technology, AI, Cybersecurity, the continued push for custom cloud environments, service trends and mobile technologies.
Tech Council: What's been the toughest aspect starting your company?
I'd say the hardest part about doing all of this is getting a new company's name out there, win over a client's trust and be awarded a contract. I've done a lot of upfront work and will continue to do it later this evening after everyone is in bed, to better align the company to succeed. Do the scaffolding now that can be applied to any application, and pass the savings to the client. In my mind it makes no sense to stress over it in the future if you can do it now. The project is that much further along and the client saves time and money - - at the end of the day that makes everyone happy.
Tech Council: Besides making killer spaghetti sauce, what other passions outside of tech keep you stoked?
As far as passions outside of tech, you know I really like to smoke food – especially chicken wings. If you haven't smoked food before, no matter what you do, it's a time intensive endeavor but it's well worth it in the end. I also enjoy wood-working and I recently started reading into how to apply epoxy on old laminate countertops.