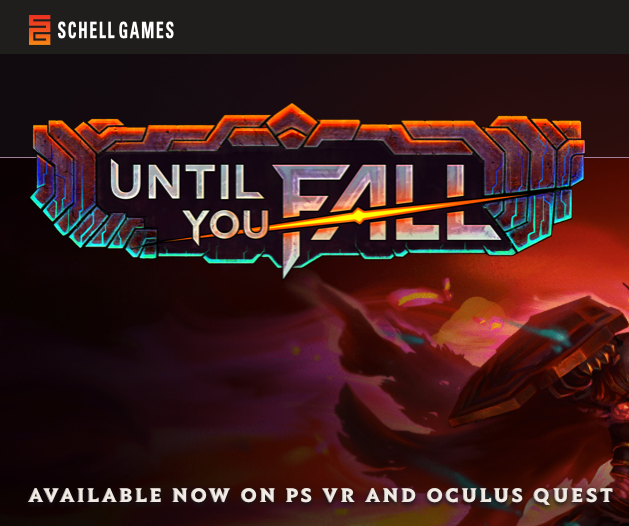 The wait is finally over! Version 1.0 of Schell Games' highly antic­i­pated virtual reality (VR) sword fighting game Until You FallTM is now available on PlayStation®VR (PS VR) and the Oculus Quest platform.
In Until You Fall, players take on the role of sword-wielding Rune Knights defending their homeland of Rokar against legions of menacing adver­saries. To succeed, they must think strate­gi­cally, choosing which weapons to use for their run and how best to enhance their abilities at the end of each enemy encounter. As they make their way through the neon hellscape, players can unlock new weapons by defeating their opponents. Fueled by Until You Fall's heart pounding synthwave sound­track, players will fight, fall, and rise again as they navigate from space to space in this phys­i­cally active hack-and-slash roguelite.
Until You Fall is available for $24.99 USD at the PlayStation®Store (North America), PlayStation®Store (EU), and Oculus Quest store. The game is currently in Early Access on the Oculus Rift platform and on Steam, where it has an ?"Over­whelm­ingly Positive" rating. There are plans to launch the 1.0 version on those platforms soon.
More infor­ma­tion can be found on the official website and via the Until You Fall press kit.