It's no question that Pittsburgh is a city of innovators. From groundbreaking medical research to transformative technological advances, the work being produced here makes a significant impact on our region and beyond.
Each year, Carnegie Science Center celebrates some of the most outstanding science and technology leaders in western Pennsylvania with the Carnegie Science Awards, presented by Eaton. As the Science Center's signature celebration of innovation and annual fundraiser, the event offers an exciting networking opportunity complete with a strolling dinner, silent auction, and awards show that will share the inspiring stories behind the awardees' accomplishments. The event raises funds to support the Science Center's education programs that identify, nurture and inspire the next generation of leaders in science and technology.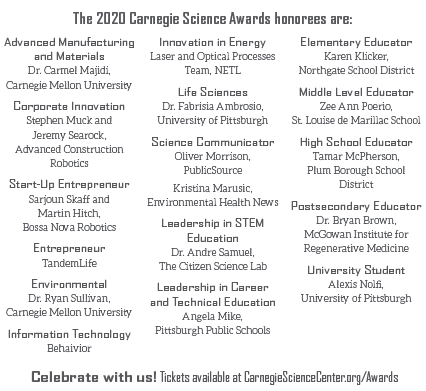 The program honors awardees in 16 categories, including Start-Up Entrepreneur, Information Technology, Innovation in Energy, Science Communicator, and several educator categories.
"The Carnegie Science Awards provide an opportunity to celebrate the astonishingly creative and forward-thinking minds in Pittsburgh's science, technology and education communities," said Jason Brown, Henry Buhl, Jr., Director of Carnegie Science Center. Brown said the Carnegie Science Awards winners are prime examples of what can be achieved with a quality education in science, technology, engineering, and math (STEM).
"A strong focus on STEM education will set students up for success no matter the career they pursue," Brown said. "STEM encourages students to let their curiosity and creativity drive them to think critically, work as a team, communicate their ideas effectively, and see failure as a constructive and crucial part of finding innovative solutions."
Thanks to the generous support of committed sponsors, the Carnegie Science Awards has honored the accomplishments of more than 600 individuals and organizations.
Awardees will be honored along with three student winners from the Covestro Pittsburgh Regional Science & Engineering Fair during the virtual Carnegie Science Awards Celebration on Thursday, September 17, 2020. Attendees can enjoy electrifying science demonstrations, inspiring stories of local STEM trailblazers who are doing world-changing work, and the most fun and enriching virtual event of 2020 — all while supporting the Science Center's STEM education initiatives!