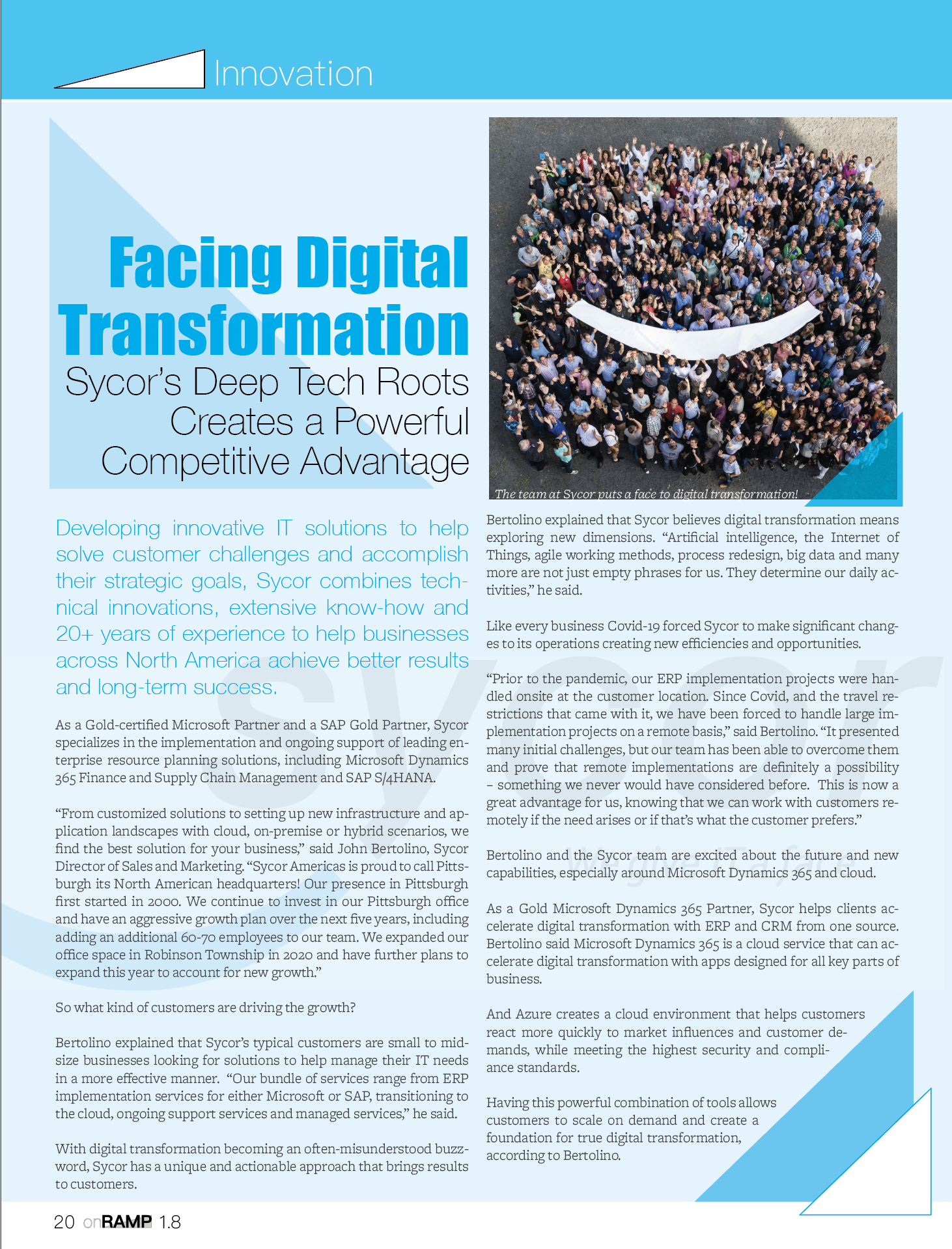 Developing innovative IT solutions to help solve customer challenges and accomplish their strategic goals, Sycor combines technical innovations, extensive know-how and 20+ years of experience to help businesses across North America achieve better results and long-term success.
As a Gold-certified Microsoft Partner and a SAP Gold Partner, Sycor specializes in the implementation and ongoing support of leading enterprise resource planning solutions, including Microsoft Dynamics 365 Finance and Supply Chain Management and SAP S/4HANA.
"From customized solutions to setting up new infrastructure and application landscapes with cloud, on-premise or hybrid scenarios, we find the best solution for your business," said John Bertolino, Sycor Director of Sales and Marketing. "Sycor Americas is proud to call Pittsburgh its North American headquarters! Our presence in Pittsburgh first started in 2000. We continue to invest in our Pittsburgh office and have an aggressive growth plan over the next five years, including adding an additional 60-70 employees to our team. We expanded our office space in Robinson Township in 2020 and have further plans to expand this year to account for new growth."
So what kind of customers are driving the growth?
Bertolino explained that Sycor's typical customers are small to mid-size businesses looking for solutions to help manage their IT needs in a more effective manner. "Our bundle of services range from ERP implementation services for either Microsoft or SAP, transitioning to the cloud, ongoing support services and managed services," he said.
With digital transformation becoming an often-misunderstood buzzword, Sycor has a unique and actionable approach that brings results to customers.
Bertolino explained that Sycor believes digital transformation means exploring new dimensions. "Artificial intelligence, the Internet of Things, agile working methods, process redesign, big data and many more are not just empty phrases for us. They determine our daily activities," he said.
Like every business Covid-19 forced Sycor to make significant changes to its operations creating new efficiencies and opportunities.
"Prior to the pandemic, our ERP implementation projects were handled onsite at the customer location. Since Covid, and the travel restrictions that came with it, we have been forced to handle large implementation projects on a remote basis," said Bertolino. "It presented many initial challenges, but our team has been able to overcome them and prove that remote implementations are definitely a possibility – something we never would have considered before. This is now a great advantage for us, knowing that we can work with customers remotely if the need arises or if that's what the customer prefers."
Bertolino and the Sycor team are excited about the future and new capabilities, especially around Microsoft Dynamics 365 and cloud.
As a Gold Microsoft Dynamics 365 Partner, Sycor helps clients accelerate digital transformation with ERP and CRM from one source. Bertolino said Microsoft Dynamics 365 is a cloud service that can accelerate digital transformation with apps designed for all key parts of business.
And Azure creates a cloud environment that helps customers react more quickly to market influences and customer demands, while meeting the highest security and compliance standards.
Having this powerful combination of tools allows customers to scale on demand and create a foundation for true digital transformation, according to Bertolino.