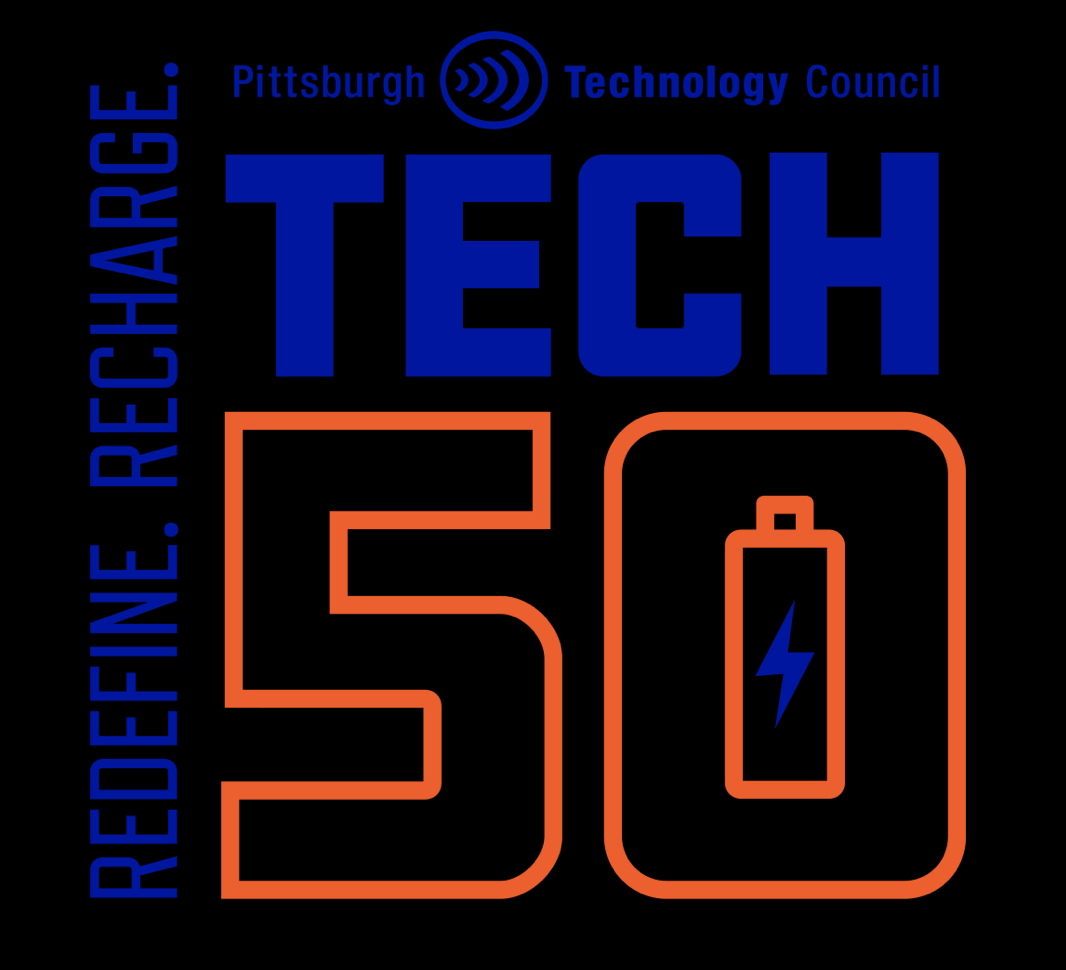 The Pittsburgh Technology Council's annual Tech 50 Awards honored technology innovation in the Pittsburgh region with a virtual gala event on Nov. 12, 2020.
Despite the COVID-19 Pandemic forcing a virtual event of nearly 450 people, the energy, excitement and enthusiasm of honoring the most innovative and fastest-growing companies across nine categories was never greater.
"It's been an unparalleled year with unthinkable challenges," said Audrey Russo, President and CEO of the Pittsburgh Technology Council. "The COVID-19 Pandemic has tested everyone's mettle in ways never imagined. This year's Tech 50 is a testament to the fortitude, creativity and innovation that exists across our industry, membership and in every Tech 50 winner and finalist."
To recognize this, Tech 50 added a one-time, new category, "Top Pivot," to honor and celebrate companies that made daring moves to not only survive the sudden economic impact of the pandemic, but help others as well.
"This was perhaps the most special Tech 50 since the Tech Council started it back in 1997," said Russo. "We were thrilled to still hold the event virtually and celebrate. This was something that we could not do without the dedicated support of our sponsors and partners!"
Innovator of the Year: AI/ML/Robotics
Winner:
Astrobotic – Astrobotic Technology, Inc. is a space robotics company making space accessible to the world. They develop advanced navigation, operation and computing systems for spacecraft, and their fleet of lunar landers and rovers will deliver payloads to the Moon for companies, governments, universities, non-profits and individuals. The company has more than 50 prior and ongoing NASA and commercial technology contracts and a corporate sponsorship with DHL.
Astrobotic pioneered a new end-to-end delivery service to the Moon, enabling anyone to purchase and send payloads (anything from scientific instruments and rovers to artwork and time capsules) to the Moon. Their strides in technology to standardize spacecraft, such as their Peregrine and Griffin lunar landers, will lower costs to deliver payloads to the Moon and make space more accessible to the world.
In June 2020, NASA announced a $199.5 million contract with Astrobotic to deliver the Volatiles Investigating Polar Exploration Rover (VIPER) to the south pole of the Moon in 2023. When VIPER disembarks from Griffin's ramps onto the Moon, it will survey the surface and subsurface for water ice, which could be used for breathable air and rocket propellant by future deep space explorers. VIPER's mapping of lunar water ice could be the first step toward utilizing resources in the space environment—rather than carting them all from Earth—to enable more affordable and sustainable space exploration.
Finalists:
Ansys – Ansys is the global leader in engineering simulation. They help the world's most innovative companies deliver radically better products to their customers. By offering the best and broadest portfolio of engineering simulation software, Ansys helps solve the most complex design challenges and engineer products limited only by the imagination.
Aurora – Aurora is committed to delivering the benefits of self-driving technology safely, quickly and broadly. Through rigorous engineering and applied machine learning, they are building the Aurora Driver, a platform that brings together software, hardware and data services to fully operate any passenger or commercial vehicle.
HEBI Robotics – HEBI Robotics' vision is to change the way robots are built. They provide a platform for agile robotics development consisting of modular hardware and software tools for motion control. Used worldwide by more than 100 universities, research institutes and industrial partners, HEBI's platform helps to create custom, world-class robots quickly and easily.
IAM Robotics – IAM Robotics leverages autonomous robotic solutions to provide next-generation warehouse automation. With all solutions designed for flexible deployments, companies are empowered to thrive in the on-demand economy by efficiently running dynamic operations. By helping organizations maximize picking productivity and ROI, IAM Robotics' continues to help customers meet the growing e-commerce demands of today's digital world.
Locomation – Locomation's mission is to move the trucking industry toward a safer, faster and greener driverless future. By developing autonomous trucks focused on their proprietary Autonomous Relay Convoying (ARC) technology, they believe in an incremental approach to reach the fully autonomous future of ground transportation. Locomation is bringing the future of fully autonomous vehicles to today, one step at a time.
Voci Technologies – Voci is committed to delivering innovative solutions that enable customers to develop contact center voice data applications. Their GPU-accelerated, deep machine learning speech technologies feature open APIs that integrate easily with multiple audio sources, telephony providers and call recording technologies. Voci provides best-in-class transcription accuracy with the lowest total operating cost available in the market.

Innovator of the Year: Consumer Goods
Winner:
Digital Dream Labs – Digital Dream Labs (DDL), a pioneer in STEAM technology, develops entertaining games that just happen to teach core pillars of education. The company currently has games that teach coding, math, art and chemistry being used in more than 3,500 school districts. Digital Dream Labs recently announced their partnership on numerous projects, including a game for youth integrating robotics and AI with the music industry.

With their acquisition of Anki, an entertainment robotics company, and their work on Anki's patent portfolio, including Vector, Digital Dream Labs has become the first open-sourced robotics company anywhere. DDL also is amplifying their calling card racing game with a new level that remotely charges the AI cars on the track. Additionally, through recent acquisitions, Digital Dream Labs has grown the tech sector in Pittsburgh, bringing talent and jobs from Silicon Valley to Pittsburgh with a goal to hire 30 more people in 2020.
As the leading provider of hands on ed-tech for children ages 4-9 with products that satisfy the need for engaging, language- and system-agnostic designs, DDL allows pre-readers to interface with both on-screen environments and other devices such as educational robots, smart speakers and other smart devices and drones. The companion robots, Vector and Anki, also serve as a unique and important tool for the special needs community, the elderly and veterans with PTSD.
With a mission stronger than profit, fueled with responsibility, and accelerated with love for humanity, Digital Dream Labs develops robots that solve society's greatest challenges.
Finalists:
BirdBrain Technologies – BirdBrain Technologies is a research-based company that promotes gender equality and diversity in computer science and robotics. Dedicated to assisting educators interested in bringing coding and engineering design into any classroom, they work collaboratively to support teachers with standards-aligned curriculum and professional development.
BlastPoint – BlastPoint builds data solutions that help companies discover, target and engage the humans in their data. Their user-intuitive, customizable software platform enables companies to understand their internal data, engage with customers more effectively and save millions of dollars in revenue. BlastPoint is dedicated to placing data at users' fingertips, delivering insights to help companies grow smarter, faster.
BluChip Solutions, LLC – BluChip Solutions connects business strategy and IT with unique and scalable solutions from small companies to global enterprises. From healthcare to manufacturing, from pharmaceutical to financial services, BluChip's customers trust them to architect, implement, monitor, support and manage the highest quality, best-in-class technology solutions.
DICK'S Sporting Goods – DICK'S Sporting Goods is a leading omni-channel sporting goods retailer offering an extensive assortment of authentic, high-quality sports equipment, apparel, footwear and accessories. They serve and inspire athletes and outdoor enthusiasts to achieve their personal best through a blend of dedicated teammates, in-store services and unique specialty shop-in-shops. DICK'S continues to offer the finest quality products at competitive prices, supported by teammates with a passion for sports.
NuMoola – NuMoola is an educational, family-focused consumer banking platform with software that enables full engagement in children's financial well-being through savings, goal setting, investing and charitable giving tools. Their vision is to build educated, lifetime banking customers by offering today's families with gamified financial education to encourage the family to appropriately save, set goals, spend, invest and donate.

Innovator of the Year: Cybersecurity
Winner:
Schneider Downs & Co., Inc. – Schneider Downs is a Top 60 independent Certified Public Accounting (CPA) firm providing accounting, tax, audit, and business advisory services to public and private companies, not-for-profit organizations and global companies. They also offer Internal Audit; Technology Consulting; Software Solutions; Personal Financial Services; Retirement Plan Solutions and Corporate Finance Services.
The Schneider Downs cybersecurity team recently launched Redlure, an opensource phishing assessment platform designed for red teamers and penetration testers. Redlure empowers organizations and security teams to assess end user readiness against phishing attacks by providing customizable email templates, linked landing pages and payload integrations to emulate real-world scenarios and a centralized interface scalable to user teams and organizations. The Schneider Downs cybersecurity team launched their incident response hotline for organizations who suspect they are in or are actively experiencing a network incident. The hotline is active 24/7/365 with direct access to digital forensics and incident response team providing a trusted partner in emergency situations where every second counts.
Their cybersecurity practice continues to expand service offerings to include a wide range of assessment, training and remediation services. In addition to cybersecurity needs, their unique firm structure allows them to provide IT Audit and Compliance services to mitigate cyber and compliance risks.
Finalists:
CyLumena, LLC – CyLumena was created out of a growing need for reliable cybersecurity technology, support and expert guidance in the Pittsburgh region. Their mission is to provide clients with peace of mind around cybersecurity through a cost-effective combination of preparation and prevention.
Ethical Intruder – Ethical Intruder is a technology- and product-agnostic cybersecurity and compliance services company. As an objective third-party resource for independent verification and validation, their guidance is positioned for IT, functional department leaders, or the executive team with a focus on penetration testing, building security and compliance roadmaps, and user awareness and behavioral training.
Qintel – Qintel is the world's top cyber intelligence and investigation company—providing clients and partners with unique insights into a variety of cyber threats and adversarial behavior. Qintel's analytic and investigative capabilities are driven by their proprietary collection of unique and hard-to-get global data that is leveraged by researchers with decades of experience in cyber threats spanning the spectrum of online activity.
VigilantOps – Vigilant Ops leverages advanced technology to bring value-add solutions to industry. Their InSight Platform is the only cloud-based platform used by both medical device manufacturers and hospitals to automatically track and monitor vulnerabilities in medical devices by identifying components with security weaknesses that could compromise patient safety.
Innovator of the Year: Data Science
Winner:
Idelic – Idelic is revolutionizing transportation safety while embracing their Pittsburgh and technological roots. Founded by Carnegie Mellon University graduates, they are dedicated to continuing their work to innovate and impact the world and keep drivers safe. With an industry-leading Driver Watch List that utilizes advanced proprietary Machine Learning (ML) technologies to predict drivers at-risk for a preventable crash, Idelic empowers fleets to prevent crashes, reduce driver turnover and lower insurance costs.
Idelic, the creator of Safety Suite®—the trucking industry's leading driver management platform dedicated to improving fleet safety—announced their partnership with Samsara, a $5.4 billion technology company. Through this partnership, customers using both services will automatically have their data from Samsara's trucking hardware uploaded to their Safety Suite account. This partnership demonstrates that Idelic is integrating itself into the trucking industry at-large and increasingly becoming the platform-of-choice for fleets.
Every day, trucking fleets are hit with a firehose of data that is difficult, expensive and time-intensive to understand. Analyzing this data and acting on the insights it generates presents an opportunity for fleets to improve their safety and operations. Unlocking the insights buried within the mountains of data a fleet has collected can make them more competitive in a difficult industry and improve public safety for everyone on the road. Safety Suite stands out with the most integrations of any driver management platform, helping fleets to organize all their driver data within a single system.
Finalists:
Cognistx – Cognistx helps companies realize the full power of their data to transform business operations and drive incremental revenue with cognitive computing. Founded by pioneers in the fields of automatic question-answering, speech processing, computer vision, natural language processing and applied machine learning, Cognistx's self-learning solution reduces order anomalies, optimizes routes, minimizes costly inventory mistakes and streamlines supply chain efficiency and accuracy.
Exchangelodge – Exchangelodge is a low-code SaaS platform that provides digital process automation and data integration solutions to alternative investment managers. Their solutions systematically pass data from source to target systems using both automated rule-driven data interrogation and automated notification to users when data and process issues arise.
RoadBotics – RoadBotics empowers communities to make objective, data-driven decisions about their roads and infrastructure. They automate inspections and generate actionable data about road networks, including identification of individual distresses. RoadBotics' detailed maps, unbiased ratings, and practical tools save time and taxpayer dollars for hundreds of communities across the country and around the world.
VISIMO – VISIMO is more than a data company. They're a collection of innovative problem-solvers driven to develop custom technology and software solutions using the latest in analytics and artificial intelligence. VISIMO provides custom AI and ML software, algorithms, services, and applications to public and private sector clients with more useful, engaging data.
Innovator of the Year: Manufacturing – Kurt J. Lesker III Award for Excellence
Winner:
Mitsubishi Electric Power Products, Inc. – Diamond Vision Division – Diamond Vision Systems, a Warrendale, PA, division of Mitsubishi Electric Power Products, Inc. (MEPPI), introduced the world to the first full-color large-scale video display in 1980 and has revolutionized the game-day and public entertainment experience ever since. Throughout their time in the industry, they've introduced numerous technological advancements and have been involved in some of the industry's largest and most complex video board projects. The Diamond Vision Systems Division has won many awards including six Guinness World Records and an Emmy for pioneering development of large-scale display technology.
Using the latest technology, Diamond Vision introduced a newly designed lightweight cabinet to use on arena center-hung displays. This innovative product allows customers to add more display area without being limited by weight restrictions, which serve as a critical factor when retrofitting displays found in existing buildings. Their designs help to reduce any additional structure needed and keep the customer's budget to a minimum. When it comes to creativity and engineering, the Diamond Vision Division has evolved within the last year. No longer limited to traditional square screens, Diamond Vision engineered an industry-first seamless compound curve display, allowing customers almost limitless possibilities when it comes to design shapes and sizes.
With a commitment to protecting the environment, Diamond Vision is continually meeting or exceeding all voluntary or regulatory requirements, encouraging and applying pollution prevention practices, improving environmental performance, providing training for employees, establishing annual objectives and working cooperatively with environmental authorities. With a campus consisting of eight different buildings, their IT department utilizes an electric car to help cut down on emissions. The Diamond Vision Division is also doing their part to help increase sustainability by giving customers the ability to show multiple images or videos on one display to reduce the amount of paper waste from rotating signage. Their designs also use the latest green, high efficiency technology to limit power consumption. Overall, as technology becomes more widely available, Diamond Vision sees no limits to the dreams and designs of the human mind.
Finalists:
Advanced Robotics for Manufacturing (ARM) – As a national membership-based consortium, ARM is dedicated to creating the ecosystem that will drive innovation in robotics. Its staff and resources are focused on spurring innovations in not just robotics technology, but also workforce development, ensuring the future is built by robots, but directed by humans.
Catalyst Connection – Catalyst Connection is a private not-for-profit organization headquartered in Pittsburgh that provides consulting and training services to small manufacturers in southwestern Pennsylvania, accelerating revenue growth and improving productivity. Through active collaboration with its clients and the manufacturing community, they contribute to the growth, vibrancy and ongoing robustness of manufacturing in the region.
Intervala, LLC –Intervala is a full-service manufacturer of complex, high-performance printed circuit board assemblies, electromechanical systems and cable and harness assemblies. Their customers are large, technology-driven companies primarily in the industrial, medical, transportation and defense industries where quality and reliability are paramount.
Innovator of the Year: Medtech
Winner:
Sentact – Sentact is an industry-leading provider of healthcare technology solutions that transforms the patientcare journey. Their platform automates data from clinical practices, the care environment and patient feedback to orchestrate action and improve the quality of patient safety and experience. Sentact has been implemented in more than 600 healthcare organizations and clients have realized significant outcomes—from increasing patient and caregiver satisfaction, to improving safety and quality and reducing hospital acquired infections—resulting in lower costs and increased revenue. The platform includes a comprehensive digital rounding solution, a mobile fulfillment system and a patient and caregiver feedback hub.
SentactRounding offers a mobile, full-suite rounding solution that connects to users' EHR, HR, active directory and work order systems to create a seamless user experience. SentactRounding is specifically designed to address all types of rounds, including COVID-19 Response Tools, Infection Prevention, Employee and Visitor Screening Tools, Environment of Care, Nursing, and Patient Experience. With SentactRounding, deficiencies are captured and automatically routed during a round or on the fly, and powerful workflow automation ensures patient complaints and safety concerns are resolved in a timely manner. With more than 17 years of experience, Sentact has assembled a library of rounding resources from templates and questions to standards and best practices, ensuring their customers achieve maximum value from their rounding efforts. On the whole, Sentact continues to help change the way healthcare is delivered by providing rapid response solutions for their customers' changing environments and the millions of lives they impact.
Finalists:
Philips – Philips is a global leader in health technology with more than 40 years of leadership in sleep apnea management, medical sleep technology, oxygen therapy, noninvasive ventilation and respiratory drug delivery. Philips strives to create meaningful innovations that improve people's lives with a commitment to discovering and developing novel solutions to help people sleep and breathe better.
Rimsys – Rimsys is a leading Regulatory Information Management (RIM) software for medical technology companies that digitizes, automates and creates regulatory order. The only holistic RIM software for medical devices, in vitro diagnostics (IVD) and medical software, they make it easy to navigate the pillars of regulatory affairs. Rimsys is a single platform built to efficiently ensure products adhere to changing global regulations.
TeleTracking Technologies – TeleTracking believes it is unacceptable that patients can't access the care they need—when they need it—due to operating inefficiencies and unnecessary cost barriers. As a pioneer in managing patientcare from admission through discharge, Teletracking has led the development of NASA-like health system command centers that provide real-time information and transparency across all hospitals.
Innovator of the Year: Non-Profit/Education/Community
Winner:
Smart Futures – Smart Futures is a non-profit organization dedicated to helping PA kids, teens, and young adults understand who they are, where they're going, and how to get there. Smart Futures has dedicated themselves to providing PA schools with an online platform that makes it easy for them to comply with the recent Governor's mandate requiring every student create a K-12 career plan and portfolio. Currently used by 25% of all PA schools, serving more than 600,000 students and 40,000 teachers, Smart Futures continues to grow rapidly. They are the first educational software application in the U.S. to offer student accounts and artifacts that are portable between districts, schools, career/technical schools and community-based organizations.
Smart Futures is revolutionizing the market and further establishing Pittsburgh as a leader in cutting-edge Ed-Tech software companies by fully disrupting the way schools think about post-secondary decision-making and planning—no longer assuming that college is the golden ticket and continuing to demonstrate the value of skills over degrees. In terms of a product model, Smart Futures will challenge the way student account subscriptions are managed, particularly pushing companies to develop solutions and how accounts can be ported with the student as they change their learning environment. In addition, it will set a benchmark on how student data can safely and securely be shared by the various organizations within each community.
Finalists:
Computer Reach – Computer Reach makes technology available to people most in need through refurbished equipment, computer literacy, training and support. They envision a computer-literate world where the benefits of technology are shared by all.
Flexable – Flexable has innovative childcare solutions to make life and work fit. They offer virtual childcare services to keep kids engaged and connected with enriching small group online activities or 1:1 care, and they help parents stay productive while working remotely.
Indiana University of PA (IUP) – Indiana University of Pennsylvania (IUP) is a vibrant, comprehensive, research-based, teaching-focused, student-centered learning community with nearly 10,000 undergraduate and graduate students enrolled in accredited, nationally recognized programs.
Smart Futures – Smart Futures is a non-profit organization dedicated to helping kids, teens and young adults Get Real by helping them understand who they are, where they are going, and how to get there. Since 2018, Smart Futures has dedicated itself to providing Pennsylvania schools with an online platform that makes it easy to comply with a statewide requirement that every student create a K-12 career plan and portfolio.
Tech Elevator – Tech Elevator is an intensive educational provider helping individuals and companies acquire in-demand technology skills for the modern workforce. Through their 14-week, full-time, in-person coding bootcamps, Tech Elevator teaches students with varied backgrounds to become software developers while building necessary career readiness skills and securing strong job connections through their Pathway Program™.
Vibrant Pittsburgh – Vibrant Pittsburgh's mission is to embrace inclusion, ensure growth and promote Pittsburgh—both nationally and internationally—as a diverse, welcoming region of opportunities. Through collaboration with and support of human resource departments, corporate recruiters, professional organizations and non-profits, Vibrant Pittsburgh is committed to bringing top talent to the region.
Innovator of the Year: Solutions Provider – Innovative Tech
Winner:
PittMoss – PittMoss produces next-generation gardening amendments and mixes. Their products are a result of decades of testing to produce a growing media unlike anything on the market. Not only do they follow cutting-edge practices to benefit our planet, their unique, organic, recycled and engineered fiber structure creates a perfect environment for plant growth. The revolutionary properties of PittMoss allow more air, more water and more nutrients to be delivered to customers' plants, encouraging faster, stronger development of flowers, vegetables, shrubs, grass and more.
PittMoss has a patented method of upcycling paper into reusable soil, free of polluting peat that most consumer gardening soils contain. They stand alone in the market and have constantly demonstrated not only its effectiveness, but increased efficacy in growing fuller, healthier plants. PittMoss has a stated goal of reducing peat-farming and reducing the pollution caused from that. They aim to make Pittsburgh the first peat-free city before growing to the rest of the world.
Finalists:
GrayMatter – GrayMatter helps people and industrial assets become smarter and more visible. As a services-first company, they start with operational technology problems and work backwards to help companies fix issues. They provide services including cybersecurity and advanced industrial analytics to the manufacturing, energy, water utility, food and beverage and oil/gas industries.
JazzHR – JazzHR is powerful, user-friendly, and affordable recruiting software purpose-built to help small and mid-sized businesses find and hire the right talent, fast. Their best-in-class solution fits seamlessly within an HR tech stack to replace manual, time-consuming hiring tasks with intuitive tools and automation, empowering customers to increase recruiting efficiency, reduce time to hire, boost quality of life and lower cost per hire.
River Point Technology – River Point Technology is a digital service provider committed to delivering next generation technology. They aim to identify business and operational impact before a technology selection discussion is held. River Point Technology helps clients identify value for their organization by offering a vendor-agnostic approach to identify and design the proper solution.
SGK – SGK is a global consultancy that helps clients transform their marketing ecosystems. They engineer the right combination of strategy, creative, production and technology to drive better marketing performance worldwide and to build better marketing resiliency when facing challenges. SGK's work spans packaging production and content creation services for some of the world's largest brands and brand owners.
Smith Micro Software, Inc. – Smith Micro develops software to simplify and enhance the mobile experience, providing solutions to some of the leading global wireless service providers and cable MSOs. Their solutions enrich today's connected lifestyles while creating new opportunities to engage consumers via smartphones and consumer IoT devices.
Sparkwear – Sparkwear develops proximity sensing wearables that provide personalized introductions and social distancing feedback between its wearers to increase engagement and interaction safely in public spaces. With services on cruise lines, in corporate spaces, at academic institutions, and at networking events, Sparkwear has the experience to help clients connect no matter the industry.
Innovator of the Year: Solutions Provider – Services
Winner:
Truefit – Truefit serves clients from entrepreneurs to executives who need to create new software products that engage their users and grow their business. Their cross-functional product teams work collaboratively through their Idea Launch™ process by integrating human-centered design, agile software development and lean business principles to reduce inherent risks in new product development and to increase market success.
As an integral part of Truefit's Idea Launch process, their teams begin with a comprehensive discovery to deliver insights that facilitate true strategic decision-making—understand the why before the how. The process is designed to both reduce risk and build confidence for their customers because, now more than ever, going to market with a life-changing idea is both daunting and often out of reach.
From healthcare to robotics and IoT to telehealth, Truefit has the confidence that their vision and process are helping companies create software that is changing the world for the better. Truefit has helped hundreds of companies in Pittsburgh—and around the country—launch products, grow businesses, and realize dreams. Building a new product brings immeasurable value to the company itself and has been the impetus for many companies to seek additional capital investments. Truefit helps their clients pave the way for the new normal in a thriving world.
Finalists:
Hamiltonian Systems – Hamiltonian Systems provides cutting-edge and comprehensive software solutions that enable manufacturers to digitally transform the way they do business. They believe that data is the lifeblood of any business and that getting data right takes innovative solutions, rigorous planning and experienced professionals.
I.T's 4 Me – I.T's 4 Me is an IT service provider and one of the few qualified, women-owned IT firms in the region. Their core values of integrity, education, empowerment,and value guide their focus of benefiting the community through the non-profits they serve. Their partnerships allow I.T's 4 Me to increase technology efficiency and operational throughput with cost-effective solutions, including IT consulting, managed services, digital media marketing, website design, and maintenance.
Piper Creative – Piper Creative is a modern digital media company that reaches thousands of people every week across Linkedin, YouTube, podcasts, and Instagram. They help their clients tell better stories on the modern platforms that matter.
SDLC Parnters, L.P. – SDLC Partners, L.P. is an essential leader in the Pittsburgh technology and business ecosystem. As a consultancy, they focus on empowering organizations to accelerate performance through smarter solutions.
TiER1 Performance – TiER1 Performance is an employee-owned consulting firm that activates strategies through people. They are passionate about consulting, designing and building people-centered business solutions that deliver meaningful, long-term success.
CEO of the Year
Winner:
Barbara VanKirk, CEO – IQ Inc. – Barbara VanKirk, President and Founder of IQ Inc., has been providing software consulting services for more than 25 years. She is a visionary leader in the technology consulting industry and has provided creative software engineering solutions and consulting services to a myriad of clients. Her hard work and determination have directly led to the success of her company; however, her compassion is what keeps those around her feeling valued and respected. VanKirk continually checks in on the wellness of the employees that call IQ home, and she truly cares about the well-being of each employee. Her steady and caring leadership has most certainly calmed the uncertainty in recent months.
Additionally, she continues to be a positive leader in her community with a focus on the betterment of others. In 2020, with IQ's sponsorship and VanKirk's participation, the University of Pittsburgh Society of Women Engineers successfully hosted the 10-week Coding for Middle School Girls Program where attendees could participate in hands-on activities that showcased the applications of coding and allowed girls to learn about the technology of the future. VanKirk's commitment to the wellness of her employees and her dedication to her community are the qualities that make her a true leader.
Finalists:
James Gianoutsos, CEO – Rimsys – James Gianoutsos is a quality assurance and regulatory affairs professional with a diverse background in the medical device, pharmaceutical and biologics industries. He has extensive experience in establishing and maintaining quality management systems in accordance with FDA, ISO, cGMP, MDD, MDR, MDSAP, and CMDCAS requirements.
James Gillespie, CEO – GrayMatter – Jim Gillespie has been leading industrial digital transformations for more than 30 years and currently leads GrayMatter in their efforts to co-innovate with companies in manufacturing, water/wastewater, power, food and beverage and the oil and gas markets to deliver customized operational technology programs and solutions. He is a member of the Board of Directors of the Carnegie Science Center and the Pittsburgh Technology Council.
Dr. Alicia B. Harvey-Smith, CEO – Pittsburgh Technical College – Dr. Alicia B. Harvey-Smith has dedicated more than 25 years to higher education in a variety of leadership and administrative roles. Committed to leadership excellence, institutional performance, and student success, she is a scholar practitioner, whose experience in higher education is both diverse and expansive.
David Kane, CEO – Ethical Intruder – David Kane founded Ethical Intruder in 2009 and has been the primary driver behind their services and innovations. David started the company at a time when cybersecurity had limited understanding or mindshare, yet he knew the industry would move from an IT issue to a boardroom necessity.
Mike McClaine, CEO – Aspirant – Mike McClaine works to deliver management consulting in a fundamentally new way, focused on the best interests of Aspirant's clients. He is determined to help businesses in Pittsburgh maximize their success. His experience in a broad range of industries and business functions, ranging from technology to finance to marketing, enables him to add leadership support across many industries and initiatives.
Michele McGough, CEO – solutions4networks – Michele McGough founded solutions4networks and leads this IT professional services and integration company in providing clients with decades of experience in designing and implementing enterprise, hybrid and cloud networks. Michele is an active member of the Women President's Organization, Regional Board Member of Strong Women, Strong Girls and Outdoor Odyssey.
Teresa Whalen, CEO – CytoAgents – Teresa Whalen is a biotech innovator, health technology leader, life sciences investor and clinical pharmacist with a successful track record of bringing life-changing healthcare products to market. At CytoAgents, she leads a team of world-renowned clinical drug development experts and scientific advisory board members who are at the forefront of groundbreaking solutions.
Ben Wilson, CEO – Rivers Agile – Ben Wilson founded Rivers Agile in 2008 with a simple mission: build an innovative, elite QA consultancy. He's grown the company into a recognizable force in Pittsburgh by providing a full range of solutions from product design, to QA testing and training, to software development.
Top COVID Pivot
Winner:
Indiana University of PA – IUP's greatest accomplishment this past year is their quick reaction to the COVID-19 crisis in March, migrating well over 1,500 courses taught by nearly 650 different faculty members in 10 days. The university remarkably was able to deliver 3,300 synchronous sessions in the first week of online learning. While many institutions faced similar challenges, IUP's accomplishment occurred in the face of somewhat unique challenges. The vast majority of faculty had never taught a fully online course and IUP was on spring break when the pandemic hit, leaving many faculty members unavailable and not immediately present to convert their materials. Additionally, the original requirement was to provide only one week of online materials, and this cost valuable time in switching to fully online curricula. Finally, the rules kept changing in those early days and this constant change continually destroyed newly created numerous plans. This achievement rolled into a highly successful virtual orientation for the first time in university history, with some 1,750 students and families being oriented and tested in a fully online modality. In the wake of their online course migration, IUP's agility with technology is not limited to the classroom: in response to the pandemic and the need for social distancing, IUP also successfully pivoted its admissions and visitation program and orientation programming to a fully online format.

Also outside the classroom, IUP leveraged their research expertise and commitment to community by developing a unique collaboration with Indiana Regional Medical Center (IRMC), a community rural hospital, resulting in same-day, local COVID-19 testing. Using IUP's laboratory for the testing. IUP also partnered with IRMC for a national clinical trial to test the efficacy of 3-D printed testing swabs, donating equipment and swabs for the project. In response to community needs, IUP made donations of personal protective equipment to area rural hospitals. Working with a local high school teacher and IUP alumni who had his students develop plans to print face shields for health care workers, IUP donated materials and 3-D printers to create the face shields, which were distributed in the region and to hospitals in New York City.
Finalists:
BirdBrain Technologies – BirdBrain Technologies created a host of free resources for K-12 educators, parents, and students to continue learning computer science and robotics from home in response to this spring's universal school closures as a result of COVID-19. They developed kid-friendly online tutorials, a schedule of live interactive building and coding webinars, and a set of live-streamed remote robots that anyone can program for free, over the internet, from anywhere in the world.
Cognistx – Cognistx developed an AI system to accelerate the review process for COVID-19 small business loan applications. They received a contract from the RISE Miami-Dade Fund in July 2020 to implement this technology that will decrease loan application review time—taking it from a 30-minute process to something that can be completed in milliseconds. Cognistx is working to grow the current AI system to assist with loan forgiveness for the PPP's next phase.
Ethical Intruder – Ethical Intruder shifted 100% from any sales activities to quickly providing free community COVID-19 support in March so organizations could meet newly required operational requirements. They began by creating guidance documents for IT staff to assist organizations with the best practices for moving to fully remote infrastructure. Quickly, this guidance followed with employee best practices to stay secure and comply with existing policy, and then an early Zoom security guidance to calm the community concern and provide secure tips on this rapidly utilized technology. They then took their training and awareness service and provided free community online trainings, phishing awareness campaigns, and a free community video series to further educate on securely working from home. Ethical Intruder also began offering no-charge penetration testing or business continuity and disaster recovery reviews to frontline organizations fighting COVID-19.
Locomation – Locomation successfully completed their first live, on-road pilot transporting commercial freight by deploying two trucks hauling trailers in a driverless convoy over a 420-mile U.S. stretch. It's predicted that­­—with the stress on the long-haul trucking community as a result of the COVID-19 pandemic—Locomation's autonomous delivery solutions will increase across the freight industry.
Mitsubishi Electric Power Products, Inc. – Diamond Vision Division – Mitsubishi's designs use the latest green, high-efficiency technology to limit power consumption, and Diamond Vision actively participates in certified electronic recycling programs and reuses any available parts or pieces. Their displays were used in New York City and other major metros during the COVID-19 pandemic to display public service announcements. They have also initiated public messaging to honor and give thanks to those working on the front lines against the virus.
Piper Creative – Piper Creative runs the city's top business podcast and created a platform for entrepreneurs across the region to share their story. Their modern approach to digital media production makes digital storytelling significantly more accessible. As a response to the COVID-19 crisis, Piper Creative was able to double their audience by doubling down on digital efforts. Quarantines associated with COVID-19 led to record-setting new peaks for consumption of YouTube videos and Piper was the only agency in Pittsburgh with an established YouTube presence and developed strategy for getting results.
PittMoss – PittMoss has a patented method of upcycling paper into reusable soil, free of polluting peat that most consumer gardening soils contain. They stand alone in the market and have constantly demonstrated not only its effectiveness, but increased efficacy in growing fuller, healthier plants. In response to the pandemic with most people quarantined at home, PittMoss offered free lettuce, tomato, and carrot seeds with their product so customers could grow their own vegetables—a modern-day twist on WWII victory gardens—and help limit trips to the grocery store.
Sentact – Sentact's greatest accomplishment this year came during the height of the pandemic by rapidly answering the call from their customers to develop a suite of tools to help respond to the COVID-19 crisis. Within 72 hours, their dedicated team assembled feedback from healthcare experts nationwide and worked 24/7 to launch an application that supported incident command centers addressing the COVID-19 pandemic at over 100 hospitals nationwide. The momentous effort required the attention of their entire organization. Every member of their team sustained a role to quickly meet customers' immediate demands, and they continue today to customize and adapt the application as healthcare systems adjust to the new normal of healthcare delivery.
Read the entire issue of TEQ Magazine: