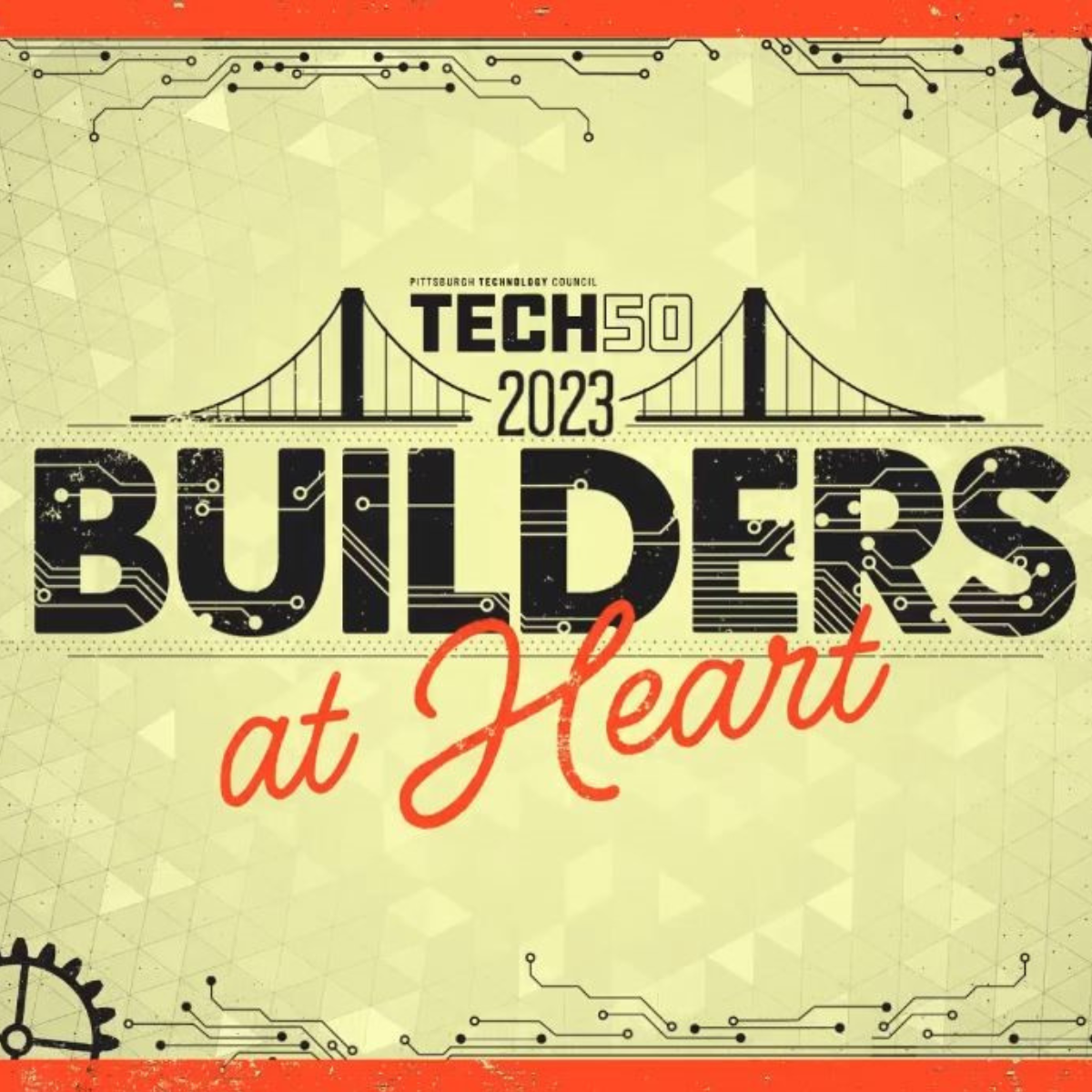 The Pittsburgh Technology Council celebrated its annual Tech 50 Awards on Nov. 16, 2023, with more than 600 attendees to honor the fastest-growing and most innovative technology companies, tech-intensive service providers and CEOs in the Pittsburgh region.
Started in 1997, Tech 50 is the Tech Council's biggest event for its members to connect with the region's top companies in the following categories: AI/ML/Robotics; Consumer/Integrative Tech; Cybersecurity; Education/Community; Manufacturing – The Kurt J. Lesker III Award for Excellence; MedTech/Health IT; Solutions Provider - Innovative Tech; Solutions Provider – Services; Start-Up; Company Culture; and CEO of the Year.
"Our innovators are spearheading breakthroughs across multiple industries, contributing $27 billion to our regional payroll. Tech 50 is a night to celebrate these achievements and share the inspiration," said Audrey Russo, President and CEO of the Tech Council.
"Pittsburgh's heartbeat of innovation is rooted in a legacy of builders who've fueled the engines of every great American economic revolution ever to come to pass. Tech 50 winners and finalists aren't merely passengers on Pittsburgh's journey into the future; they are the builders of that future!"
---
---
AI/ML/Robotics
Winner: Gecko Robotics
Gecko Robotics is helping the world's most important organizations ensure the availability, reliability, and sustainability of critical infrastructure. Gecko's complete and connected solutions combine wall-climbing robots, industry-leading sensors, and an AI-powered data platform to provide customers with a unique window into the current and future health of their physical assets. This enables real-time decision making to increase the efficiency and safety of operations, promote mission readiness, and protect the environment and civilization from catastrophic failure.
Finalists:
Accipiter Systems: Accipiter specializes in computer networking solutions that deliver results in real time for edge applications, providing U.S.-sourced, PCIe (Peripheral Component Interconnect Express) based solutions to solve the unique needs of the U.S. Government and the most demanding commercial applications.
Astrobotic: Astrobotic specializes in making space missions feasible and more affordable for science, exploration, and commerce. And it thinks the Moon is a great place to start.
HEBI Robotics: HEBI's vision is to change the way robots are built. HEBI Robotics provides a platform for agile robotics development, consisting of modular hardware and software tools for motion control.
Maven: Maven is automating operations to increase efficiency across the trucking industry. Since 2014, Maven has provided premier, AI-powered Route Planning & Optimization, ELD/Telematics, Driver Workflow, Dispatch, and Fleet Management solutions.
Rivers Agile: Rivers Agile has always been hyper-focused and nimble, using modern trends and best practices to drive engineering. Its secret sauce is its ability to apply world-class technical knowledge to solve unique challenges with compelling software innovation.
Thoro.ai: Thoro's mission is to deliver the benefits of autonomous mobile robotics safely, quickly and broadly. Its autonomy platform is created from proprietary software and specially built hardware, and able to adapt across a variety of industries and conditions.
VISIMO: Specializing in Artificial Intelligence and Machine Learning, VISIMO develops state-of-the-art data science tools and builds custom, interactive and actionable cloud-based software. Its technological expertise creates comprehensive and innovative solutions that are open-source, secure and accessible on any device from anywhere in the world.
Consumer/Integrative Tech
Winner: Duquesne Light
For more than 100 years, Duquesne Light Company has provided safe and reliable electric service to communities in southwestern Pennsylvania. It is committed to safely powering its customers' lives while playing a leading role in the region's clean energy transition. Its vision is to create a larger-than-light, clean energy future for all by delivering exceptional results today and boldly harnessing opportunities for tomorrow. In doing so, Duquesne Light can ensure a cleaner, healthier and more equitable community for generations to come.
Finalists:
CannonDesign: CannonDesign has existed for a century, but it is more ready than ever to positively influence a brighter future in Pittsburgh and across North America.
DeepLocal: Deeplocal is an award-winning creative technology and experience design company. It invents interactive experiences for global brands, helping them tell stories and connect with audiences in new and unexpected ways.
Eat'n Park Hospitality Group: Started as a single car-hop style restaurant in Pittsburgh in 1949, Eat'n Park Hospitality Group has grown into a portfolio of regional foodservice concepts focused on personalized dining. It now serves more than 50 million guests every year.
GNC: Founded in 1935, GNC is a leading global health and wellness brand. Since the beginning, GNC has held an unwavering commitment to the utmost standards, from creating the highest quality products to delivering them to the customer.
Allegheny County Airport Authority: Allegheny County Airport Authority, which manages Pittsburgh International Airport (PIT) and Allegheny County Airport (AGC), is committed to transforming Pittsburgh's airports to reflect and serve the community, inspire the industry and advance the region's role as a world leader.
Schell Games: Schell Games is one of the largest full-service education and entertainment game development companies in the United States. Since 2002, it has created interactive experiences that engage and inspire players of all ages across all platforms.
The Wolfe Companies, LLC: The Wolfe Companies, LLC is a Greentree based reward, loyalty and gift company. Wolfe sells many millions of gift and reward cards yearly and power some very large partners with its technology.
Cybersecurity
Winner: GrayMatter
GrayMatter is dedicated to transforming operations and empowering people. It helps your people and your industrial assets become smarter and more visible through its four core offerings: Advanced Industrial Analytics, Industrial Cybersecurity, Brilliant Operations and Automation & Controls. Since 1991, GrayMatter has worked with thousands of manufacturing, water/wastewater, energy, CPG, pharmaceutical and other organizations that support critical infrastructure and produce essential goods and services in the U.S. and Canada. Its growing team of industrial engineers, data scientists and cybersecurity experts provide consulting, implementation and technology curation services.
Finalists:
Certes Networks: Headquartered in Moon Township with a global presence in Europe, the Middle East and Asia Pac, Certes Networks has been delivering data protection solutions to enterprises and governments globally for over 20 years.
Seiso: The Seiso way makes security a differentiator with the power to prevent vulnerabilities, increase growth and put you ahead of the competition. Its experts work hands-on to build modern security and compliance programs using low-friction methods that won't slow down your business.
Education Community
Winner: Tech Elevator
Tech Elevator guides, supports and leads people with zero coding experience into high-earning careers. Its outcomes lead the coding bootcamp industry, with in-person and online courses, expert career prep, and dedicated instructors who teach from experience. Through its part-time and full-time coding bootcamps, Tech Elevator empowers students and companies with in-demand skills for the modern workforce.
Finalists:
Carnegie Science Center: Carnegie Science Center is the region's premier and most-visited museum, renowned for spearheading STEM literacy. Devoted to cultivating the future trailblazers and visionaries who will address the demands of the workforce, Carnegie Science Center inspires and entertains by connecting science and technology with everyday life.
Troutwood: Troutwood empowers individuals and the institutions who care about them, with conflict-free financial planning tools.
Manufacturing – The Kurt J. Lesker III Award for Excellence
Winner: Covestro
Covestro is one of the world's leading manufacturers of high-quality polymer materials. With its innovative products, the company helps enhance sustainability and the quality of life in many areas. Covestro supplies customers around the world in key industries such as mobility, building and living, as well as the electrical and electronics sector. In addition, polymers from Covestro are also used in sectors such as sports and leisure, cosmetics and health, as well as in the chemical industry itself. The company is committed to becoming fully circular and is striving to become climate neutral by 2035.
Finalists:
The ARM Institute: The ARM Institute leads the way to a future where people and robots work together to respond to our nation's greatest challenges and to develop and produce the world's most desired products.
Dynamic Manufacturing – A Matric Company: Dynamic Manufacturing is an electronics contract manufacturer offering engineering, PCB, cable & harness/electromechanical assembly and aftermarket repair services.
MedTech/Health IT
Winner: RareMed Solutions
RareMed is the nation's only concierge patient services provider, focused on complex and rare conditions. RareMed partners with life sciences innovators to transform the lives of patients afflicted with rare and devastating conditions by accelerating access to biomedical breakthroughs. RareMed offers case management, co-pay, coupon and financial assistance programs, reimbursement support, nursing support, healthcare professional education, patient adherence & education, and non-commercial pharmacy dispensing services to all 50 states.
Finalists:
ConnectiveRx: ConnectiveRx's purpose is to take the pain out of complex prescription processes to help patients start and stay on life-changing specialty medication.
CytoAgents: CytoAgents is developing CTO1681, a novel therapy for the treatment of Cytokine Release Syndrome (CRS), a dangerous and potentially life-threatening overreaction of the immune system, commonly known as Cytokine Storm.
eHealth Technologies: eHealth Technologies is a leading healthcare technology company that helps top hospitals across the U.S. who need fast and seamless access to comprehensive, clinically organized medical histories, to schedule patients quickly and efficiently for meaningful first appointments.
Rimsys: Rimsys is improving global health by accelerating delivery and increasing availability of life-changing medical technologies. Rimsys Regulatory Information Management (RIM) software helps medtech regulatory affairs teams to plan more effectively, execute more quickly and confidently ensure global regulatory compliance.
Solutions Provider - Innovative Tech
Winner: Lucas Systems
Lucas Systems provides AI-based software and technology tools to help warehouse workers and supervisors perform their jobs better, more safely and with less stress. The result is not only more productive workers and greater workforce retention, but also increased customer efficiency and profits. It is not uncommon for companies to realize 50% improvements in worker productivity and achieve order accuracy rates of 99.9%, all without investing in long cycle automation such as conveyers, robots, and sortation. For more than 25 years, its solutions have transformed work for thousands of workers in more than 400 distribution centers all over the world.
Finalists:
CivicMapper: CivicMapper is a geospatial solutions provider that uses modern mapping technology for decision makers on the front lines of climate, infrastructure and social equity challenges. It develops geospatial data, builds web-based analysis tools and creates spatially enabled software for many types of projects in the natural and built environments.
Industrial Scientific Corporation: Industrial Scientific Corporation is on a mission to end death on the job through portable gas detection, hardware as a service and advanced analytics that help prevent exposure to hazards and deliver unmatched clarity into safety and operational performance.
Optimus Technologies: Optimus Technologies decarbonizes heavy-duty transportation by enabling diesel engines to run on 100% biodiesel, reducing a fleet's carbon output by 80-90%.
SmithMicro: With more than 40 years of success and experience as a trusted innovation center for both enterprise and consumer-level software and services, Smith Micro does much more than build apps for businesses; it helps build business.
Solutions Provider – Services
Winner: Translate.One
Translate.One offers transformative multi-language solutions to international businesses across all industries and sectors. Its advanced AI and expert human collaboration enable precise translation, interpretation and localization of software, websites, eLearning, multimedia and more. Its strategic acquisitions and the introduction of Scrybs.com highlight a commitment to advancing global communication. By amplifying translation processes' efficiency and precision, Translate.One empowers clients to thrive on the international stage.
Finalists:
AC&NC JetStor: AC&NC has prospered for decades thanks to its experienced management team and a business model focused on providing every customer with highly competitive solutions, services and support.
Aspirant: Aspirant partners with business leaders to implement practical solutions to their most critical strategic, technological and talent-related challenges. Its collaborative teams apply industry and functional expertise to help clients achieve sustainable results.
Data Ideology: Data Ideology (DI) is a Pittsburgh-based data and analytics consulting firm that partners with enterprise and mid-market organizations to accelerate their data journeys.
IRALOGIX: IRALOGIX helps everyone achieve financial success by enabling financial institutions to profitably offer institutional quality investment products to everyone, regardless of account size or type.
Logix Guru: Logix Guru is a leading provider of staffing solutions and digital engineering solutions with deep expertise in application engineering, cloud engineering, data and analytics, devops, low code development and digital assurance.
RoadBotics by Michelin: RoadBotics by Michelin empowers communities to make objective, data-driven decisions about their roads and infrastructure. It automates inspections and generate actionable data about road networks.
TIER1 Performance: TIER1 Performance believes that the potential for any organization lies within its people and by unleashing the best of both, we will change the world.
Wabtec: Wabtec combines decades of industrial leadership with cutting-edge software and digital technologies to create an efficient, productive and reliable transportation ecosystem.
Startup
Winner: Mayvue
Building on its founding members' industry skills and experience, Mayvue continues to build its growing team of highly skilled and passionate strategists, experts, software engineers, analysts, and testers who create products to efficiently and effectively maintain infrastructure assets for transportation professionals. Founded in 2019, Mayvue re-envisions the technologies used by public agencies to build and maintain the critical infrastructure necessary across the nation.
Finalists:
GetBlok Farms: GetBlok Farms is a socially aware, minority and women-owned agriculture technology company bringing vertical, hydroponic farming in a modular container format to urban communities.
HIKE2: HIKE2 merges human-centered design, data and emerging technology to create lasting impact and success for clients, partners and our team.
Kloopify: Kloopify is a sustainable procurement platform that provides procurement professionals with the data and technology they need to operationalize sustainability within their procurement processes.
SHzoom Technologies, Inc.: SHzoom Technologies, Inc. Founded in 2019, Uptime by SHzoom is an early-stage startup focused on the convergence of fleet-related risks, internet technologies, machine learning, sustainability and automotive repairs.
Unio: Unio's Patient and Family Healthcare portals are tailor-made for long-term care communities. They effortlessly connect residents with their medical info and offer families a view into their loved one's treatment.
Company Culture
Winner: CannonDesign
Finalists:
Accipiter Systems
Aspirant
ConnectiveRx
Covestro
GrayMatter
Industrial Scientific
Mayvue
Tech Elevator
CEO of the Year
Winner: David Kane, Ethical Intruder
David Kane is the founder and CEO of Ethical Intruder a Pittsburgh based Cybersecurity, Compliance and Risk Services company. Kane founded of Ethical Intruder in 2009 and has been the primary driver behind their services and innovations. He started the company at a time when cyber security had very limited understanding or mindshare. Under his leadership, Kane continues to position the company on the leading edge of cyber security services. As the organization grows, he still maintains a relationship with every client to assure that client expectations are met and exceeded.
Finalists:
Ira Moskowitz, ARM Institute: Ira Moskowitz has been the CEO of the ARM Institute since April 2020. Prior to his new role, Moskowitz served as Director of Advanced Manufacturing Programs for the Massachusetts Technology Collaborative.
Avi Geller, Maven: Avi Geller is the Founder and CEO of Maven Machines. Since 2014, he has led Maven's growth as an IoT platform that serves the transportation industry through real-time, mobile cloud enterprise software.
Colin Huwyler, Optimus Technologies: Colin Huwyler is a veteran of the renewable fuels industry. He founded Optimus Technologies in 2010 and has guided the company through many changes that lead to the commercialization of The Vector System in 2018.
Dr. Gordon Vanscoy, RareMed: Dr. Gordon Vanscoy has more than three decades of executive experience building successful medical and pharmaceutical services ventures.
James Gianoutsos, Rimsys: James Gianoutsos is the Founder and CEO of Rimsys, the leading provider of Regulatory Information Management (RIM) software for the medtech industry.
Gene Natali, Troutwood: Prior to Troutwood, Gene spent 17 years working with large pension funds and institutional investors. He is an award-winning author, who has key-noted conferences across the country and has spoken in over 500 high school and college classrooms.
Jordan Joltes, TruSummit Solutions: After more than a decade in Salesforce consulting, Jordan Joltes recognized the need for a more comprehensive CRM enablement approach and, in 2020, TruSummit was born.
James Julius, VISMO: In 2015 James Julius founded VISIMO, and prior to that had roles in healthcare and consumer goods across finance, risk management and information technology.