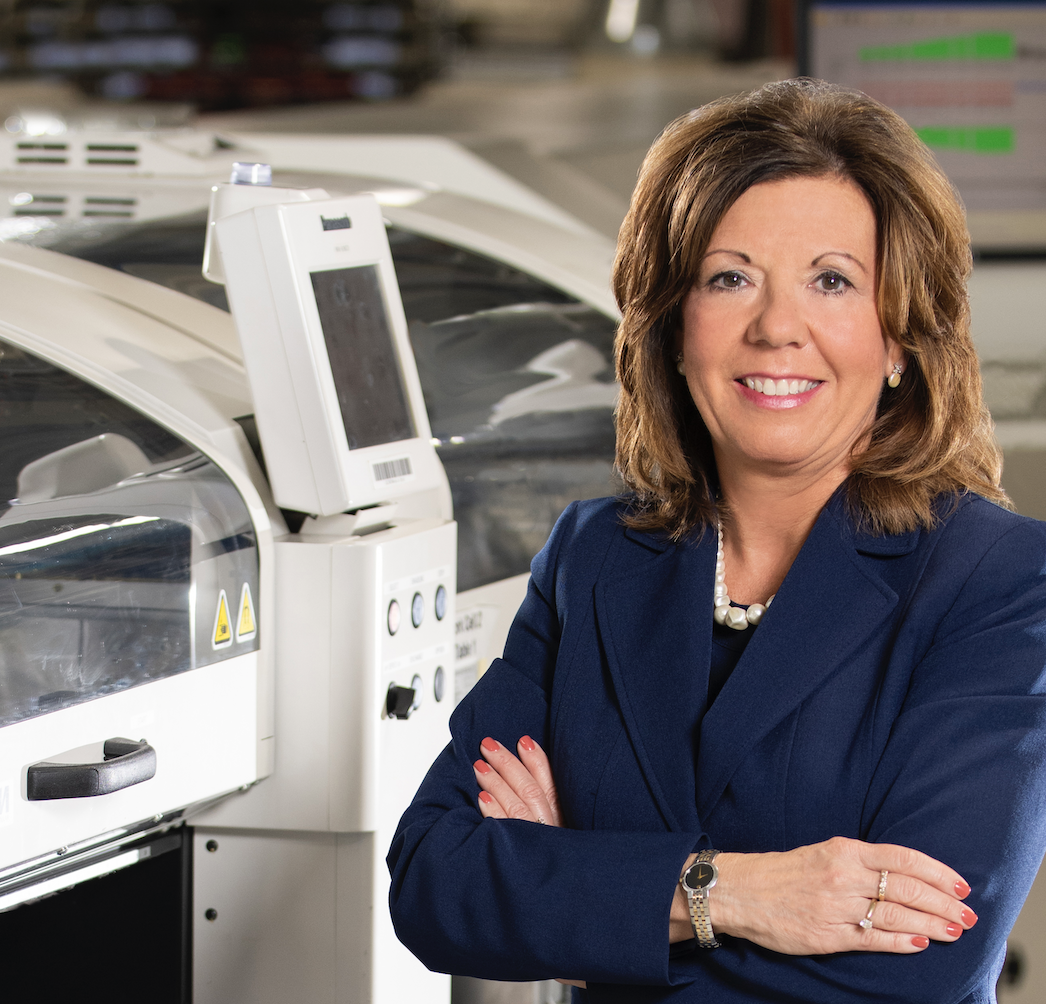 Intervala LLC is a broad-based contract manufacturer of electronics for technology-driven companies.
The company's 135,000-square-foot Pittsburgh operation is a leader in the design, engineering and manufacturing of circuit card assemblies, electromechanical systems and cable and harness assemblies for customers doing business in diverse markets, including industrial, medical, transportation and defense.
The company's engineering expertise, combined with full-service manufacturing and support services, enables the company to meet customer requirements for on-time, high-quality, complex electronic products. Intervala LLC is certified to ISO 9001 and ISO 13485 quality standards.
We want to learn more about the company, and who better to talk to than its CEO Teresa Huber?
OnRAMP: Thanks for taking the time to talk with us! Give us a little about your background and what led you to being CEO of Intervala?
Teresa Huber: I'm an electrical engineer by training and have spent my career in manufacturing, principally in tech. During the last 25 years, I've held senior leadership positions with Sony, Pinnacle Electronics, LaBarge, Ducommun and TMG Electronics, all here in Pittsburgh. I've had the good fortune of serving as Intervala's CEO since January 2016 when a group of investors and I partnered to acquire the business.
OnRAMP: Tell us about Intervala's key services and who are your typical customers?
TH: Intervala manufactures highly complex electronic and electromechanical products, as well as cable and harness assemblies. Our customers are leading innovators in the industrial, medical, transportation and defense industries who hire us as their manufacturing arm so they can focus on their own core competencies, such as new product development or marketing. Because our customers' products generally are very specialized and often must be produced to strict quality or regulatory standards, the level of expertise required in a manufacturing partner is high. Intervala is a full-service operation, which means we furnish whatever the customer needs to get their product to market, including engineering, design assistance, supply chain management, testing, direct-order fulfillment and sometimes aftermarket support.
OnRAMP: Looks like Intervala has been making a lot of headlines recently with new customers and acquiring other businesses. Tell us what's driving Intervala's growth?
TH: Four years ago, we charted a path forward for the business that included both internal growth and acquisitions. Over the years, we've been very strategic about how we've executed on that plan. Our team has done an excellent job expanding relationships with current customers and bringing on well-matched new customers. We recently made two acquisitions in the Northeast region because our goal was to expand our presence in that area, which offers great opportunity in terms of new top-tier customers in the markets we serve. The key thing for us is identifying opportunities that fit within our business niche as well as with our customer-focused culture. This diligence ensures long-term success for both Intervala and our customers.
OnRAMP: What are the key challenges to growing Intervala and keeping it on the bleeding edge of tech/innovation?
TH: In our business, innovation is about consistently challenging ourselves to find unique and value-added solutions to our customers' problems. Each customer requires something different and that requires us to think creatively every day. Sometimes the need can be addressed by applying a new technology, so we work hard to stay current there. But more often it's a group of team members collaborating, drawing on their individual and collective experience and expertise to arrive at a completely original and innovative solution. That takes a willingness to embrace tough challenges and a high level of adaptability.
OnRAMP: How do you see the industry changing over the next few years? Any headwinds and opportunities for the company?
TH: In our industry niche, beginning-to-end support is becoming increasingly important. OEMs are looking for highly capable partners that can manage the full spectrum of a project or program. Intervala stands out because we have the same advanced capabilities as the larger players in our industry, but much greater flexibility due to our size and approach to the business. This is an important advantage for us, especially during a time when many OEMs are experiencing fluctuating demand and supply chain disruptions due to the COVID-19 pandemic.
OnRAMP: How can we get more people interested in manufacturing careers?
TH: STEM education is critical to nurturing interest in manufacturing careers. The classroom can have tremendous influence on sparking a passion in STEM, and starting at a young age is essential. Fortunately, enormous resources exist to help educators drive this effort. Here in Pittsburgh, we're so fortunate to have top-notch organizations, including the Pittsburgh Technology Council, that partner with schools and local industry to sponsor engaging and fun STEM programs for middle and high school students. Intervala has participated in these interactive programs for many years.