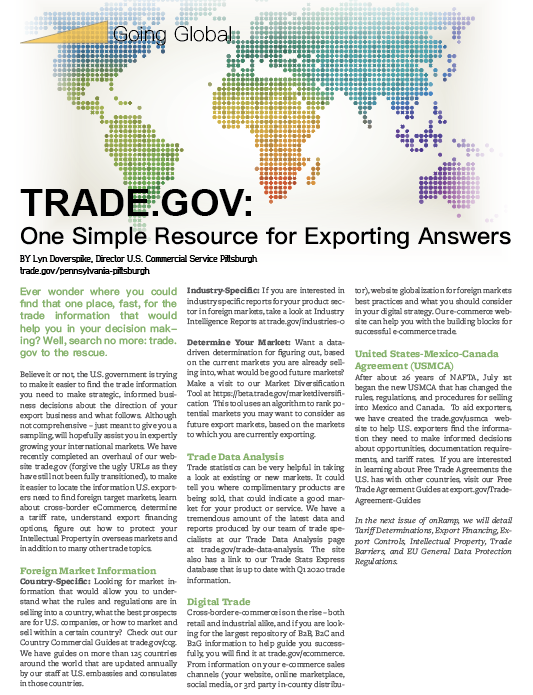 Ever wonder where you could find that one place, fast, for the trade information that would help you in your decision making? ?Well, search no more: trade.gov to the rescue.
Believe it or not, the U.S. government is trying to make it easier to find the trade information you need to make strategic, informed business decisions about the direction of your export business and what follows. Although not comprehensive – just meant to give you a sampling, will hopefully assist you in expertly growing your international markets. We have recently completed an overhaul of our website trade.gov (forgive the ugly URLs as they have still not been fully transitioned), to make it easier to locate the information U.S. exporters need to find foreign target markets, learn about cross-border eCommerce, determine a tariff rate, understand export financing options, figure out how to protect your Intellectual Property in overseas markets and in addition to many other trade topics.
Foreign Market Information
Country-Specific: Looking for market information that would allow you to understand what the rules and regulations are in selling into a country, what the best prospects are for U.S. companies, or how to market and sell within a certain country? Check out our Country Commercial Guides at trade.gov/ccg. We have guides on more than 125 countries around the world that are updated annually by our staff at U.S. embassies and consulates in those countries.
Industry-Specific: If you are interested in industry specific reports for your product sector in foreign markets, take a look at Industry Intelligence Reports at trade.gov/industries-0
Determine Your Market: Want a data- driven determination for figuring out, based on the current markets you are already selling into, what would be good future markets? Make a visit to our Market Diversification Tool at https://beta.trade.gov/marketdiversification This tool uses an algorithm to rank potential markets you may want to consider as future export markets, based on the markets to which you are currently exporting.
Trade Data Analysis
Trade statistics can be very helpful in taking a look at existing or new markets. It could tell you where complimentary products are
being sold, that could indicate a good market for your product or service. We have a tremendous amount of the latest data and reports produced by our team of trade specialists at our Trade Data Analysis page at trade.gov/trade-data-analysis. The site also has a link to our Trade Stats Express database that is up to date with Q1 2020 trade information.
Digital Trade
Cross-border e-commerce is on the rise – both retail and industrial alike, and if you are looking for the largest repository of B2B, B2C and B2G information to help guide you successfully, you will find it at trade.gov/ecommerce. From information on your e-commerce sales channels (your website, online marketplace, social media, or 3rd party in-county distributor), website globalization for foreign markets best practices and what you should consider in your digital strategy. Our e-commerce website can help you with the building blocks for successful e-commerce trade.
United States-Mexico-Canada Agreement (USMCA)
After about 26 years of NAFTA, July 1st
began the new USMCA that has changed the rules, regulations, and procedures for selling into Mexico and Canada. To aid exporters, we have created the trade.gov/usmca website to help U.S. exporters find the information they need to make informed decisions about opportunities, documentation requirements, and tariff rates. If you are interested in learning about Free Trade Agreements the U.S. has with other countries, visit our Free Trade Agreement Guides at export.gov/Trade-Agreement-Guides
In the next issue of onRamp, we will detail Tariff Determinations, Export Financing, Export Controls, Intellectual Property, Trade Barriers, and EU General Data Protection Regulations.