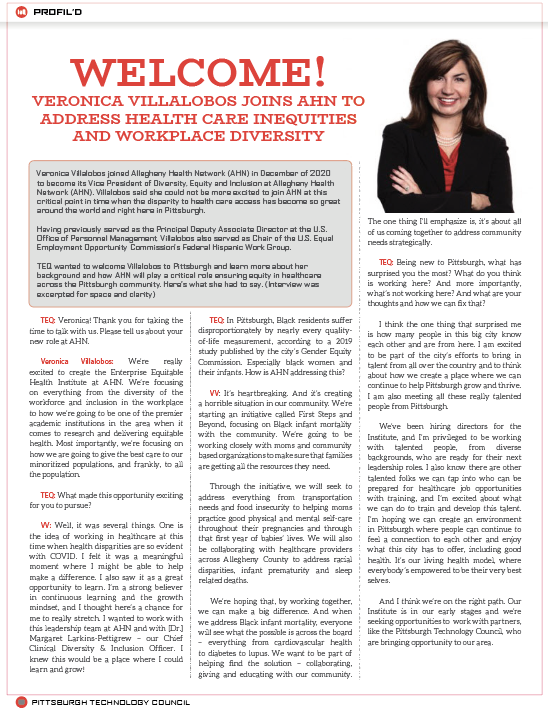 Veronica Villalobos joined Allegheny Health Network (AHN) in December of 2020 to become its Vice President of Diversity, Equity and Inclusion. Villalobos said she could not be more excited to join AHN at this critical point in time when the disparity to health care access has become so great around the world and right here in Pittsburgh.
Having previously served as the Principal Deputy Associate Director at the U.S. Office of Personnel Management, Villalobos also served as Chair of the U.S. Equal Employment Opportunity Commission's Federal Hispanic Work Group.
TEQ wanted to welcome Villalobos to Pittsburgh and learn more about her background and how AHN will play a critical role ensuring equity in healthcare across the Pittsburgh community. Here's what she had to say. (Interview was excerpted for space and clarity)
TEQ: Veronica! Thank you for taking the time to talk with us. Please tell us about your new role at AHN.
Veronica Villalobos: We're really excited to create the Enterprise Equitable Health Institute at AHN. We're focusing on everything from the diversity of the workforce and inclusion in the workplace to how we're going to be one of the premier academic institutions in the area when it comes to research and delivering equitable health. Most importantly, we're focusing on how we are going to give the best care to our minoritized populations, and frankly, to all the population.
TEQ: What made this opportunity exciting for you to pursue?
VV: Well, it was several things. One is the idea of working in healthcare at this time when health disparities are so evident with COVID. I felt it was a meaningful moment where I might be able to help make a difference. I also saw it as a great opportunity to learn. I'm a strong believer in continuous learning and the growth mindset, and I thought here's a chance for me to really stretch. I wanted to work with this leadership team at AHN and with [Dr.] Margaret Larkins-Pettigrew – our Chief Clinical Diversity & Inclusion Officer. I knew this would be a place where I could learn and grow!
TEQ: In Pittsburgh, Black residents suffer disproportionately by nearly every quality-of-life measurement, according to a 2019 study published by the city's Gender Equity Commission. Especially black women and their infants. How is AHN addressing this?
VV: It's heartbreaking. And it's creating a horrible situation in our community. We're starting an initiative called First Steps and Beyond, focusing on Black infant mortality with the community. We're going to be working closely with moms and community based organizations to make sure that families are getting all the resources they need.
Through the initiative, we will seek to address everything from transportation needs and food insecurity to helping moms practice good physical and mental self-care throughout their pregnancies and through that first year of babies' lives. We will also be collaborating with healthcare providers across Allegheny County to address racial disparities, infant prematurity and sleep related deaths.
We're hoping that, by working together, we can make a big difference. And when we address Black infant mortality, everyone will see what the possible is across the board – everything from cardiovascular health to diabetes to lupus. We want to be part of helping find the solution – collaborating, giving and educating with our community. The one thing I'll emphasize is, it's about all of us coming together to address community needs strategically.
TEQ: Being new to Pittsburgh, what has surprised you the most? What do you think is working here? And more importantly, what's not working here? And what are your thoughts and how we can fix that?
VV:I think the one thing that surprised me is how many people in this big city know each other and are from here. I am excited to be part of the city's efforts to bring in talent from all over the country and to think about how we create a place where we can continue to help Pittsburgh grow and thrive. I am also meeting all these really talented people from Pittsburgh.
We've been hiring directors for the Institute, and I'm privileged to be working with talented people, from diverse backgrounds, who are ready for their next leadership roles. I also know there are other talented folks we can tap into who can be prepared for healthcare job opportunities with training, and I'm excited about what we can do to train and develop this talent. I'm hoping we can create an environment in Pittsburgh where people can continue to feel a connection to each other and enjoy what this city has to offer, including good health. It's our living health model, where everybody's empowered to be their very best selves.
And I think we're on the right path. Our Institute is in our early stages and we're seeking opportunities to work with partners, like the Pittsburgh Technology Council, who are bringing opportunity to our area.