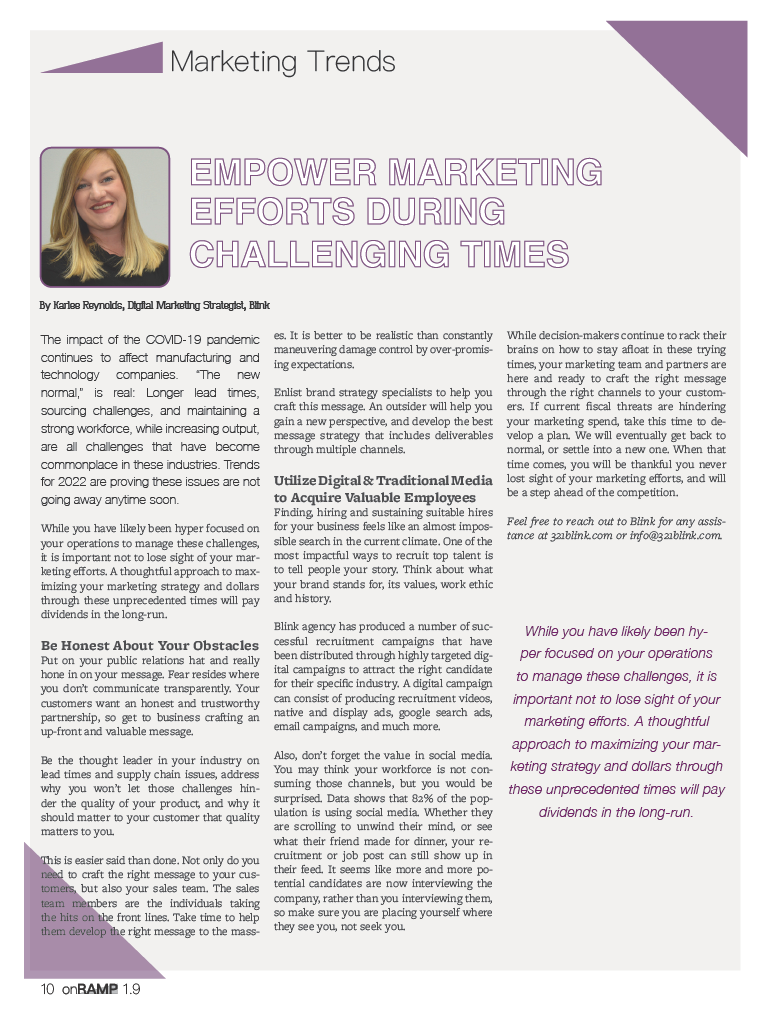 The impact of the COVID-19 pandemic continues to affect manufacturing and technology companies. "The new normal" is real: Longer lead times, sourcing challenges, and maintaining a strong work-force, while increasing output, are all challenges that have become commonplace in these industries. Trends for 2022 are proving these issues are not going away any time soon.
While you have likely been hyper focused on your operations to manage these challenges, it is important to not lose sight of your marketing efforts. A thoughtful approach to maximizing your marketing strategy and dollars through these unprecedented times will pay dividends in the long-run.
Be Honest About Your Obstacles
Put on your public relations hat and really hone in on your message. Fear resides where you don't communicate transparently. Your customers want an honest and trustworthy partnership, so get to business crafting an up-front and valuable message.
Be the thought leader in your industry on lead times and supply chain issues, address why you won't let those challenges hinder the quality of your product, and why it should matter to your customer that quality matters to you.
This is easier said than done. Not only do you need to craft the right message to your customers, but also your sales team. The sales team members are the individuals taking the hits on the front lines. Take the time to help them develop the right message to the masses. It is better to be realistic than constantly maneuvering damage control by over-promising expectations.
Enlist brand strategy specialists to help you craft this message. An outsider will help you gain a new perspective, and develop the best message strategy that includes deliverables through multiple channels.
Utilize Digital & Traditional Media to Acquire Valuable Employees
Finding, hiring and sustaining suitable hires for your business feels like an almost impossible search in the current climate. One of the most impactful ways to recruit top talent is to tell people your story. Think about what your brand stands for, its values, work ethic and history.
Blink agency has produced a number of successful recruitment campaigns that have been distributed through highly targeted digital campaigns to attract the right candidate for their specific industry. A digital campaign can consist of producing recruitment videos, native & display ads, google search ads, email campaigns, and much more.
Also, don't forget the value in social media. You may think your workforce is not consuming those channels, but you would be surprised. Data shows that 82% of the population is using social media. Whether they are scrolling to unwind their mind, or see what their friend made for dinner, your recruitment or job post can still show up in their feed. It seems like more and more potential candidates are now interviewing the company, rather than you interviewing them, so make sure you are placing yourself where they see you, not seek you.
While decision-makers continue to rack their brains on how to stay afloat in these trying times, your marketing team and partners are here and ready to craft the right message through the right channels to your customers. If current fiscal threats are hindering your marketing spend, take this time to develop a plan. We will eventually get back to normal, or settle into a new one. When that time comes, you will be thankful you never lost sight of your marketing efforts, and will be a step ahead of the competition.
Feel free to reach out to Blink for any assistance at 321blink.com or info@321blink.com.