By the Wolfe LLC Team
Welcome to "A Company's Journey to Disruption," a new column written by Wolfe LLC team members where we will share experiences and insights on what has helped us succeed in the past and present.
Wolfe is a local tech incubator with a 25-year history of successfully disrupting industries with digital models from the first coupon site in 1995 to the first affiliate marketing platform as a service in 2001 to the first and largest gift card site online started in 2002. Its founder, Jason Wolfe, is also the Chairman of the Pittsburgh Technology Council.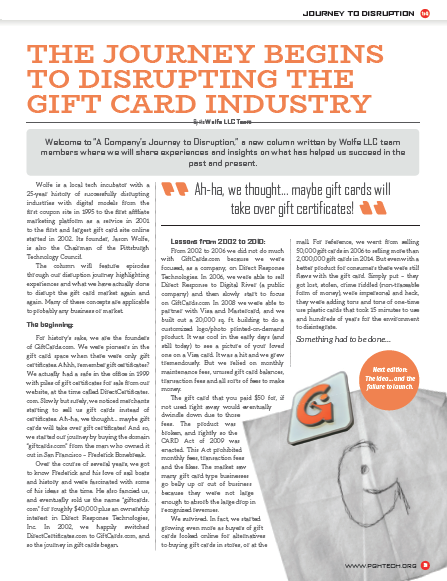 The column will feature episodes through our disruption journey highlighting experiences and what we have actually done to disrupt the gift card market again and again. Many of these concepts are applicable to probably any business or market.
The beginning:
For history's sake, we are the founders of GiftCards.com. We were pioneers in the gift card space when there were only gift certificates. Ahhh, remember gift certifi cates? We actually had a safe in the office in 1999 with piles of gift certificates for sale from our website, at the time called DirectCertificates.com. Slowly but surely, we noticed merchants starting to sell us gift cards instead of certificates. Ah-ha, we thought… maybe gift cards will take over gift certificates! And so, we started our journey by buying the domain "giftcards.com" from the man who owned it out in San Francisco – Frederick Bonebreak.
Over the course of several years, we got to know Frederick and his love of sail boats and history and were fascinated with some of his ideas at the time. He also fancied us, and eventually sold us the name "giftcards.com" for roughly $40,000 plus an ownership interest in Direct Response Technologies, Inc. In 2002, we happily switched DirectCertificates.com to GiftCards.com, and so the journey in gift cards began.
Lessons from 2002 to 2010:
From 2002 to 2006 we did not do much with GiftCards.com because we were focused, as a company, on Direct Response Technologies. In 2006, we were able to sell Direct Response to Digital River (a public company) and then slowly start to focus on GiftCards.com In 2008 we were able to partner with Visa and Mastercard, and we built out a 20,000 sq. ft. building to do a customized logo/photo printed-on-demand product. It was cool in the early days (and still today) to see a picture of your loved one on a Visa card. It was a hit and we grew tremendously. But we relied on monthly maintenance fees, unused gift card balances, transaction fees and all sorts of fees to make money.
The gift card that you paid $50 for, if not used right away would eventually dwindle down due to those fees. The product was broken, and rightly so the CARD Act of 2009 was enacted. This Act prohibited monthly fees, transaction fees and the likes. The market saw many gift card type businesses go belly up or out of business because they were not large enough to absorb the large drop in recognized revenues.
We survived. In fact, we started growing even more as buyers of gift cards looked online for alternatives to buying gift cards in stores, or at the mall. For reference, we went from selling 50,000 gift cards in 2006 to selling more than 2,000,000 gift cards in 2014. But even with a better product for consumers there were still flaws with the gift card. Simply put – they got lost, stolen, crime riddled (non-traceable form of money), were impersonal and heck, they were adding tons and tons of one-time use plastic cards that took 15 minutes to use and hundreds of years for the environment to disintegrate.
Something had to be done…