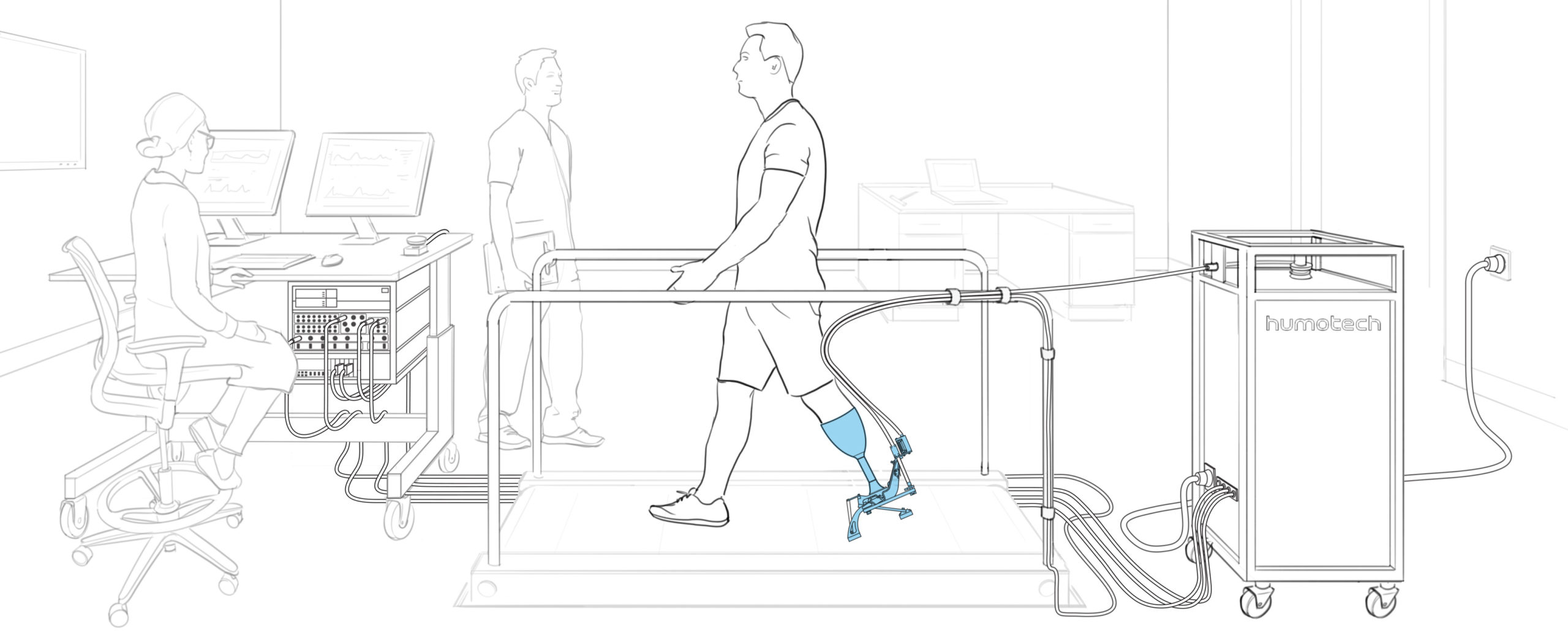 Humotech has the admirable mission to transform the way the world develops and uses wearable machines – think prosthetics, exoskeletons, wearable robotics and more.
Humotech, short for Human Motion Technologies, began as a project spun off from Carnegie Mellon University in 2015. While studying robotics, Caputo often found himself thinking about how to help build systems that would both improve lives for individuals and explore new frontiers for humanity. During Caputo's doctoral work at CMU's Experimental Biomechatronics Laboratory, he developed Humotech's first product, the CaplexTM PRO-001 ankle-foot prosthesis.
Toward the end of his PhD studies, as he was presenting his work at conferences internationally, Caputo found he already had a demand—now he just needed to create a business to fulfill it.
"I'd always wanted to start a business, but having eager customers lining up really forced the subject," Caputo said. "I've been learning as I go…But I enjoy the challenge, both on the technical and business sides."
Humotech works with elite researchers and developers in their research & development of wearable devices that enable and enhance mobility.
Their Caplex system provides a testbed for exploring the mechanics of these wearable machines. Caplex serves as an emulator, allowing users to actually experience the physical sensations of the devices, without costly and time-consuming physical prototyping. One Caplex system can emulate many variations in product design, eliminating users to rapidly test-drive different products without needing to don and doff different devices.
Humotech finds itself operating at an intersection of the practical and the more fantastic. Their products haven't just caught the attention of those with mobility impairments, but also people who see the future of human evolution in advancing technology. Caputo explains this view of wearable tech as medical devices versus the broader notion of transhumanism:
"The medical market has been around forever. Since the beginning of recorded human history, there's been use of prosthetics," he noted. "but the idea of strapping on an exoskeleton and, you know, taking flight like Iron Man is much newer and getting the general population really excited about the potential for this technology. Progress towards this more sci-fi vision is upon us, and should compel anyone interested in disruptive tech.
"So, on one hand, you have this excitement around super disruptive tech that's going to create new markets and make billions of dollars. And then on the other end, you have this very old industry that's trying to figure out how to reinvent itself and better serve individuals with disabilities. We want to unify those efforts with a common platform for R&D to help launch a new age of wearables that blends all boundaries."
Caputo envisions that much like the autonomous vehicle industry, wearable robotics will also find its early home and adopters in Pittsburgh. Of course, not every company or individual is ready to buy a Humotech system, it being a big investment that requires an R&D team to successfully utilize.
Humotech wants to sell and proliferate its platform, but looks at growth of the industry holistically and sees collaboration as the key.. As the industry grows, it's not always clear how new folks fit in, so Humotech is creative in their collaborations.
"We're totally open to partnering in unusual ways and developing custom solutions," Caputo said. "We want more conversations happening at the intersection of people and technology – especially the kind that position the human experience as the driver for development."