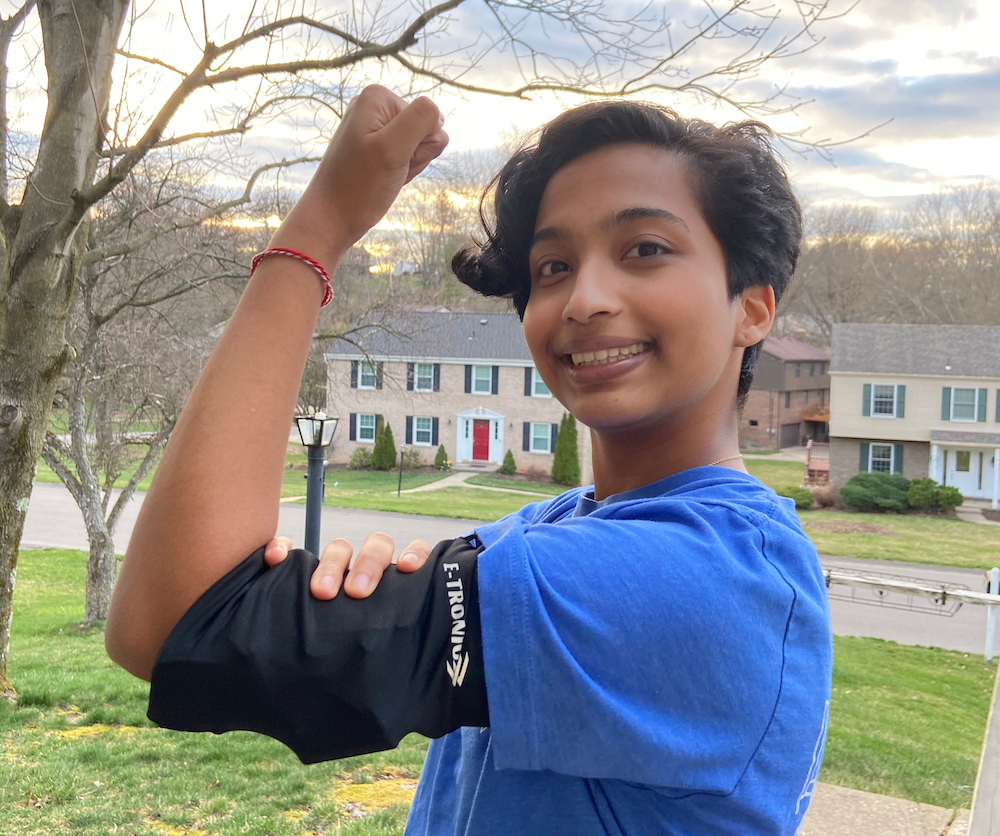 Going back 15 years, more than 20,000 students have received the National Center for Women & Information Technology (NCWIT) Aspirations in Computing (AiC) Award. The AiC award honors 9th-12th grade women, genderqueer or non-binary students for their computing-related abilities, technical accomplishments, influential performance, persistence in the face of barriers to access, and plans for the future.
The tiered award structure includes Winner, Honorable Mention and Rising Star designations at national and regional affiliate levels. For those students in the Pittsburgh region that are encouraged to apply, they will first qualify for the Regional Affiliate Award, alongside 79 NCWIT Alliance member organizations. These winners become part of a powerful network of honorees and winners from across the country, all with ambitions to achieve success in computing. When talking to three of our region's award recipients, it was the encouragement to pursue their passions that was consistently named as the greatest reward.
Dr. Theresa Richards has been the Outreach Program Manager at Carnegie Mellon University (CMU) since 2012 and a mentor for Girls of Steel Robotics and FIRST® Robotics since 2010. Well-known and valued in our region as a teacher, mentor and sponsor of young women in STEM, Richards won the NCWIT Educator Award in 2015 and received a Regional Affiliate Honorable Mentions for the NCWIT Educator Award in 2017, 2020 and 2021. Beyond being an award winner herself, Richards is a champion facilitator and reviewer of the NCWIT AiC award, promoting the award to the young women within Girls of Steel.
When I asked Richards about her "why" behind promoting the award to her students, she said, "I want our students to know that this is a real opportunity. A little bit of recognition goes a long way. Because the Aspirations in Computing Award is offered in a tiered award system, the students realize what is possible…that this year they may have qualified for a certain level, and that motivates them to achieve more, make more of a difference, learn more things and aspire to the next level. It motivates them to think bigger."
NCWIT recognized Richards for leading the Girls of Steel program, which was founded in the fall of 2010 at CMU and the Field Robotics Center. Girls of Steel has evolved into a central location for all the girls, coming from more than a 600-square-mile area, to learn and actively explore the field of robotics. Girls of Steel is more than just a robotics team and its mission goes beyond building a robot for competition. Upon receiving the NCWIT Educator award, NCWIT provided resources to further support the work of Richards. NCWIT provided Richards with funds to be used to purchase resources for her students along with funding towards professional development, which she used to attend the International Society for Technology in Education Conference (ISTE). Theresa continues her work leading the Girls of Steel and its acquisition of skills that will last far beyond their high school years.
A former student of Richards, Aditri Thakur, was first named as a 2021 NCWIT AiC Regional Affiliate Award Winner and then moved on to be named as a 2022 NCWIT AiC National Honorable Mentions Winner. Originally from Upper St. Clair School District, Thakur sought out the Girls of Steel program at CMU to further her understanding of robotics alongside other young women. She first looked to learn more after taking Computer Science, AP Computer Science and an Engineering class at Upper St. Clair, noting that she was the only female in her engineering class. Now a freshman at Worcester Polytechnic Institute (WPI) majoring in robotics, Thakur was selected as a winner due to her multiple years in STEM, demonstration of leadership in STEM and participation in multiple Girls of Steel community events, such as mentoring younger students in summer camps focused on Scratch coding and robotics.
One project highlighted on Thakur's AiC award application was uniquely impressive. Prior to working with her Girls of Steel robotics team, Thakur didn't know much about the barriers that children with autism face. In 2021, the Girls of Steel team was tasked with designing a device to help younger children diagnosed with autism to overcome the sensory and physical challenges of exercise. Thakur and her eight team members accepted the challenge and created the BuzzBand, a wearable fitness device for youth with Autism that helps users to focus and stay motivated while exercising by applying tandem vibrations and rhythmic beeps.
According to Thakur, "NCWIT does a very good job of creating a space where you look at your accomplishments and register what you have done alongside other women and gender minorities. Many times, I found that I would fall into imposter syndrome and question if I was qualified to be an engineer one day. But in that space specifically, where other women are sharing their accomplishments, ideas, passion and driving force…it is such an uplifting community and keeps you inspired."
Thakur went on to say that, "The NCWIT Community is a safe space for you to share what you have been working on, see what others are working on and be recognized for your accomplishments. This is very cool and unique considering there are barriers that exist, especially in regard to confidence, that can keep things from pursuing STEM majors. NCWIT and my robotics team have encouraged me and made me realize that yes, I am capable. I am capable of actually making changes for causes that I think are valid."
Samhita Gudapati, currently in grade 12 at North Allegheny Senior High School and a member of Girls of Steel, won the 2021 NCWIT AiC Regional Affiliate award. On her application for the AiC award, Gudapati highlighted the multiple roles she has had in her five years of being involved with Girls of Steel. She has served as Mechanical Subsystem Lead, Strategy Lead, part of the Drive Team and also directed FIRST Ladies.
The FIRST Ladies is an organization that connects women from all across the world who are involved with the FIRST® Robotics program. This year, Gudapati will be in a consulting role with the First Ladies organization and the Technical Project Manager for the Girls of Steel robotics team. Gudapati said that at first, she was apprehensive about applying for NCWIT's AiC award. She knew it was focused on computing, at first thinking the award was only directed towards information technology. Gudapati worried that she would not be qualified. But after receiving a lot of encouragement from other Girls of Steel team members, mentors and Richards, Gudapati realized it would be a good opportunity and decided to let the reviewers decide if she was qualified to receive recognition.
Looking back, Gudapati is so glad that she summoned the courage to apply. She said that the application was streamlined and not an intensive process. On her application, Gudapati highlighted her passion for STEM, her dreams of pursuing a future in STEM and her involvement in the Girls of Steel, Science National Honors Society and STEMinism club at North Allegheny High School.
Gudapati recommends, "Any young women who are involved in STEM courses and clubs should pursue the AiC award because it is a great way to get exposure to opportunities. The community through NCWIT is really great, constantly keeping you aware of programs and opportunities." Looking to the future, Gudapati plans to major in environmental engineering, with CMU making her list of higher education institutions.
Made possible through the generous support from the Henry L. Hillman Foundation, the Pittsburgh Technology Council and our non-profit, Fortyx80, NCWIT has joined the national network of universities, companies, non-profits and government organizations as a national affiliate working to increase the influence and meaningful participation of girls and women from every community. Making more students of our region aware of the opportunity to become part of the NCWIT Aspirations in Computing community is a start toward achieving that goal. Applications for the NCWIT Educator Award and Aspirations in Computing Award for high school women, genderqueer and non-binary students are now open through October 27, 2022.