Our region is faced with a workforce need as employers seek to fill in-demand jobs across a number of industries.
According to the Pennsylvania Department of Education, there will be 590,000 new and replacement jobs needing to be filled in Pennsylvania through 2026.
STEM careers are no exception, as employers require candidates who are educated and trained in the latest technology and innovation to keep pace with rapidly evolving professions. That's why Pittsburgh Technical College's (PTC) wide range of STEM-based academic programs are rooted in a hands-on curriculum that puts students in scenarios that mirror what they will experience in the real world.
From surgical technology and nursing or information systems and technology to computer-aided drafting or robotics, each of these programs is project-based and grounded in on-the-job simulations to develop workforce-ready candidates.
Innovation on Campus
In addition to the hands-on learning philosophy helping prepare students for STEM careers when they enter the workforce, it's the innovation in the classroom that is helping students to simulate success.
Take CAE Aria for example, a pediatric patient simulator that nursing students work on, which represents a seven-year-old child with lifelike neurological features. Aria offers a wide range of pediatric scenarios, such as airway and ventilation management, cardiac resuscitation and trauma care, helping students grow both their competence and confidence in assessing pediatric disorders in the classroom before encountering real-life patient scenarios.
Another innovative training tool on campus is the Chamberlain Compact Abdominal Surgery Trainer for surgical technology students. The versatile general surgery trainer for use with laparoscopy and robotic systems provides PTC students with a realistic simulation of abdominal organs, including the abdomen, liver, gallbladder, stomach and intestines. With actual visual anatomical structures, students learn to anticipate a surgeon's needs and have a better understanding of the intricacies of surgery.
In addition, computer aided drafting (CAD) students learn a minimum of six software packages—one of the most diverse arrays of software packages offered in the region—preparing them for a wide variety of employment options. PTC's CAD labs feature five types of 3D printers, a 3D scanner, laser engraver, CNC machine, plastic injection molding machine and more for students to utilize for hands-on experience.
Fast-tracking STEM Success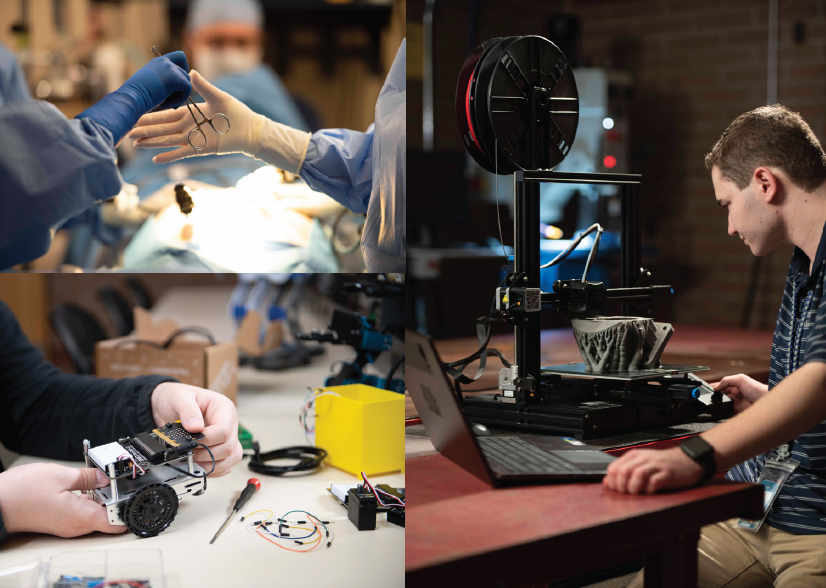 PTC understands the pressing need that employers have for well-qualified applicants. That's why PTC helps students transition from the classroom to the workplace as quickly as possible.
In just 18 months, students in PTC's CAD program are trained to hone their skills in one of two paths: architectural engineering technology or mechanical engineering technology. To meet employer demand for graduates from PTC's CAD program, students earn their associate degree after one year of on-ground education and six months of on-site employment experience at an internship.
In fact, 100% of PTC's degree-seeking students in all 25 academic programs participate in internships, clinical rotations or employer partnerships in capstone projects before they graduate. This differentiator is a key
factor driving in 96% of available 2022 graduates working in their fields after graduation.
It's never too late to start training for a career in a STEM-based profession. PTC is proud of its diverse set of students—from recent high school graduates pursuing their STEM dreams to adults looking to pivot and enter a STEM career later in life.
At PTC, the next generation of STEM professionals train at a 180-acre Oakdale campus - but efforts don't stop there. Thanks to a recent National Science Foundation (NSF) grant, the college is partnering with local high schools to develop dual enrollment opportunities, summer camps, cybersecurity competitions, conferences and mentoring programs to broaden participation for students before they even arrive on campus.
To learn more about PTC's STEM-based visit ptcollege.edu/stem.