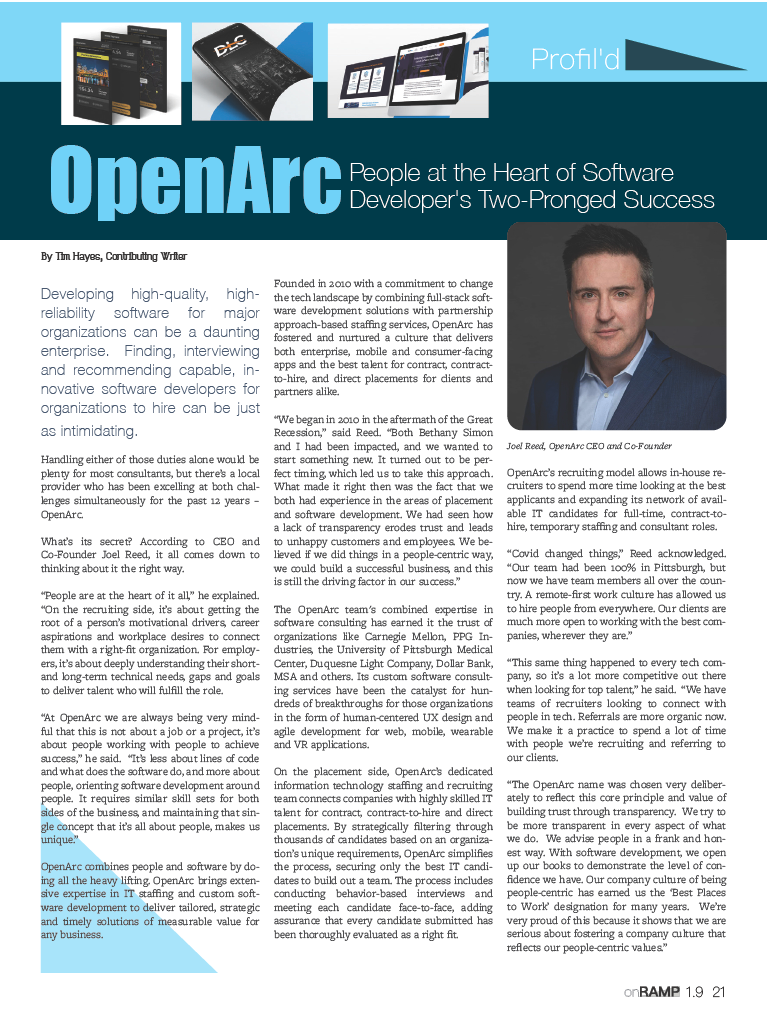 Developing high-quality, high-reliability software for major organizations can be a daunting enterprise. Finding, interviewing, and recommending capable, innovative software developers for organizations to hire can be just as intimidating.
Handling either of those duties alone would be plenty for most consultants, but there's a local provider who has been excelling at both challenges simultaneously for the past 12 years – OpenArc.
What's its secret? According to CEO and Co-Founder Joel Reed, it all comes down to thinking about it the right way.
"People are at the heart of it all," he explained. "On the recruiting side, it's about getting the root of a person's motivational drivers, career aspirations and workplace desires to connect them with a right-fit organization. For employers, it's about deeply understanding their short- and long-term technical needs, gaps and goals to deliver talent who will fulfill the role.
"At OpenArc we are always being very mindful that this is not about a job or a project, it's about people working with people to achieve success," he said. "It's less about lines of code and what does the software do, and more about people, orienting software development around people. It requires similar skill sets for both sides of the business, and maintaining that single concept that it's all about people, makes us unique."
OpenArc combines people and software by doing all the heavy lifting. OpenArc brings extensive expertise in IT staffing and custom software development to deliver tailored, strategic and timely solutions of measurable value for any business.
Founded in 2010 with a commitment to change the tech landscape by combining full-stack software development solutions with partnership approach-based staffing services, OpenArc has fostered and nurtured a culture that delivers both enterprise, mobile and consumer-facing apps and the best talent for contract, contract-to-hire, and direct placements for clients and partners alike.
"We began in 2010 in the aftermath of the Great Recession," said Reed. "Both Bethany Simon and I had been impacted, and we wanted to start something new. It turned out to be perfect timing, which led us to take this approach. What made it right then was the fact that we both had experience in the areas of placement and software development. We had seen how a lack of transparency erodes trust and leads to unhappy customers and employees. We believed if we did things in a people-centric way, we could build a successful business, and this is still the driving factor in our success."
The OpenArc team's combined expertise in software consulting has earned it the trust of organizations like Carnegie Mellon, PPG Industries, the University of Pittsburgh Medical Center, Duquesne Light Company, Dollar Bank, MSA and others. Its custom software consulting services have been the catalyst for hundreds of breakthroughs for those organizations in the form of human-centered UX design and agile development for web, mobile, wearable and VR applications.
On the placement side, OpenArc's dedicated information technology staffing and recruiting team connects companies with highly skilled IT talent for contract, contract-to-hire, and direct placements. By strategically filtering through thousands of candidates based on an organization's unique requirements, OpenArc simplifies the process, securing only the best IT candidates to build out a team. The process includes conducting behavior-based interviews and meeting each candidate face-to-face, adding assurance that every candidate submitted has been thoroughly evaluated as a right fit.
OpenArc's recruiting model allows in-house recruiters to spend more time looking at the best applicants and expanding its network of available IT candidates for full-time, contract-to-hire, temporary staffing, and consultant roles.
"Covid changed things," Reed acknowledged. "Our team had been 100% in Pittsburgh, but now we have team members all over the country. A remote-first work culture has allowed us to hire people from everywhere. Our clients are much more open to working with the best companies, wherever they are."
"This same thing happened to every tech company, so it's a lot more competitive out there when looking for top talent," he said. "We have teams of recruiters looking to connect with people in tech. Referrals are more organic now. We make it a practice to spend a lot of time with people we're recruiting and referring to our clients.
"The OpenArc name was chosen very deliberately to reflect this core principle and value of building trust through transparency. We try to be more transparent in every aspect of what we do. We advise people in a frank and honest way. With software development, we open up our books to demonstrate the level of confidence we have. Our company culture of being people-centric has earned us the 'Best Places to Work' designation for many years. We're very proud of this because it shows that we are serious about fostering a company culture that reflects our people-centric values."