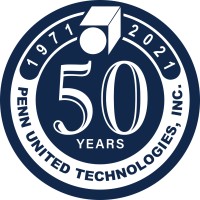 Penn United Technologies is a high-precision manufacturing solutions provider, headquartered in Cabot, PA since 1971.
Hear from Charlie Phillips and Tom Pomorski about Penn United's vast array of solutions and new technologies like additive manufacturing that are leading the way toward another 50 years.
Penn United's main market segments served include Medical, Fluid Handling. Defense & Aerospace, Energy, Oil & Gas, Electronics & Telecom, Automotive, as well as others requiring high precision manufacturing expertise. Certified to ISO-9001 and ISO-14001, Penn United provides: Design for Manufacturing, Die Simulation Services, Prototyping, Additive Manufacturing, Tooling, High Precision Stamping Dies, Precision Grinding, Precision Machining, Metal Stamping, Assembly, Automated Equipment, Reel-to-Reel Plating, Metal Finishing Services, Carbide Manufacturing, Tungsten & Silicon Carbide, Carbide & Metal Assemblies, Parker Majestic Grinders, and Manufacturing Training.