April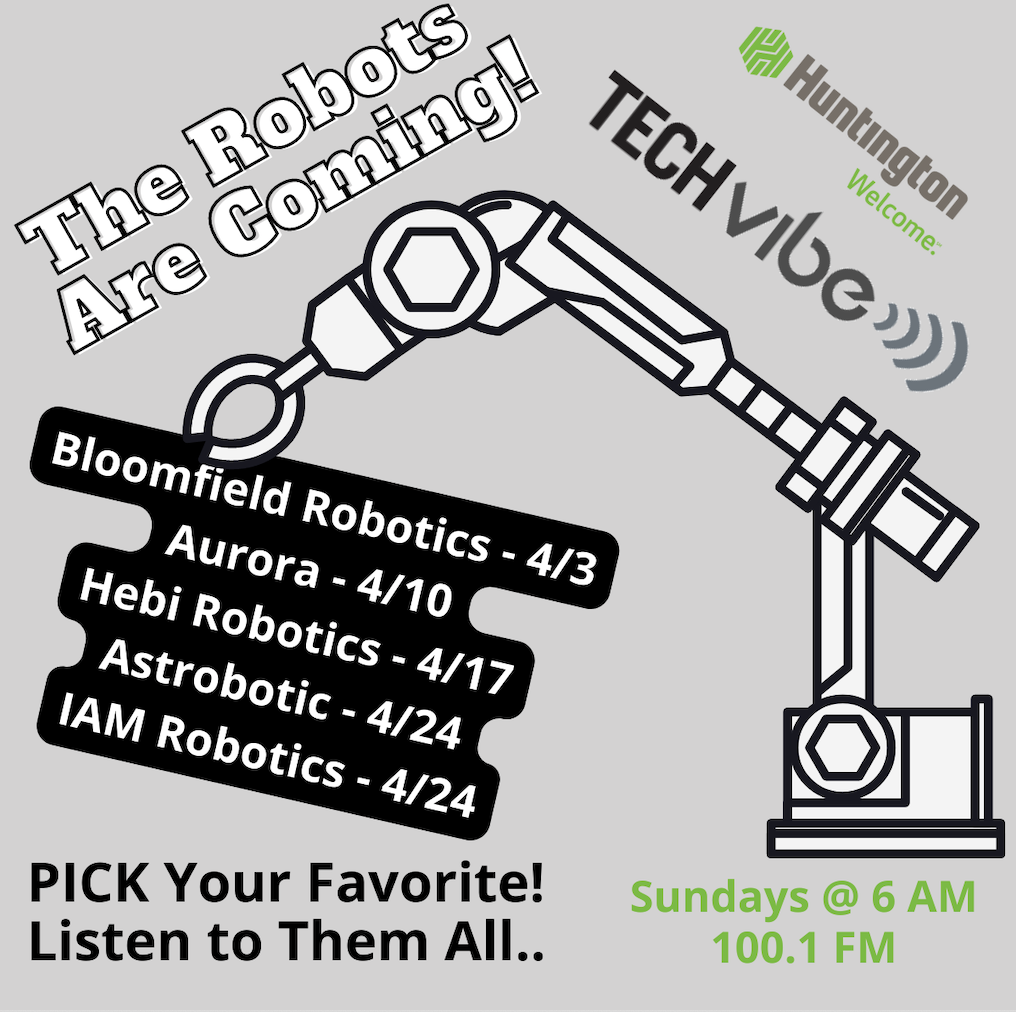 is "Do the Robot" Month on TechVibe Radio! Every broadcast will feature local robotics companies kicking butt and taking names.
From self drving cars to sending rovers to the moon to inspecting crops in the filed, Pittsburgh's robotics industry cuts across practically every imaginable vertical. We wanted to give you a little sampler all April long.
Every episode was recorded at the Huntington Bank at the heart of Robotics Row in the Strip District!
Sundays @ 6AM 100.1 FM | KDKA 1020 AM
4/3/22: Bloomfield Robotics
We're kicking it off with Mark DeSantis of Bloomfield Robotics, which is at the confluence of artificial intelligence and agriculture.
Mark will detail how it is building tools that will push crop production and plant breeding to the physical limit. A product of the CMU Robotics Institute, Bloomfield is bringing agricultural robotics technology developed with millions of dollars of federal and private grants over the past 15 years into commercial space.
4/10/22: Aurora
Matt Blackburn stops by the show at Huntington bank's Strip District branch to talk about Aurora's growth in Pittsburgh.
Aurora works at the intersection of rigorous engineering and applied machine learning to address one of the most challenging, important and interesting opportunities of our generation: transforming the way people and goods move.

Founded by three of the world's leaders in the self-driving vehicle industry, we design the software and hardware that will power the next revolution in transportation. It brings partners together to move more quickly than any one company can move alone.
4/17: Hebi Robotics
Bob Raida, CEO of Hebi Robotics, does the robot on TechVibe Radio and tell us what happens when a robot goes missing in the Allegheny River...
Hebi Robotics builds intelligent and connected building blocks for creating robotic solutions and uses these building blocks to deliver these solutions faster, better, and cheaper than current technology. Well-defined interfaces, internet-enabled connectivity, and smart software tools allow implementers to spend their time focusing on the task at hand rather than low-level implementation details, resulting in faster development.
And yes, Hebi's robots are waterproof!
4/24: Astrobotic and IAM Robotics
TechVibe Radio is wrapping up its "Do the Robot" Month with a show that is truly out of this world. In this episode, learn how Astrobotic will send its first payload to the moon later this year. All plans point toward a soft landing!
Plus get details on what is driving growth behind IAM Robotics. Demand for its warehouse robotic picking systems is being driven by ever-increasing growth of on-line shopping and super-tight supply chains.