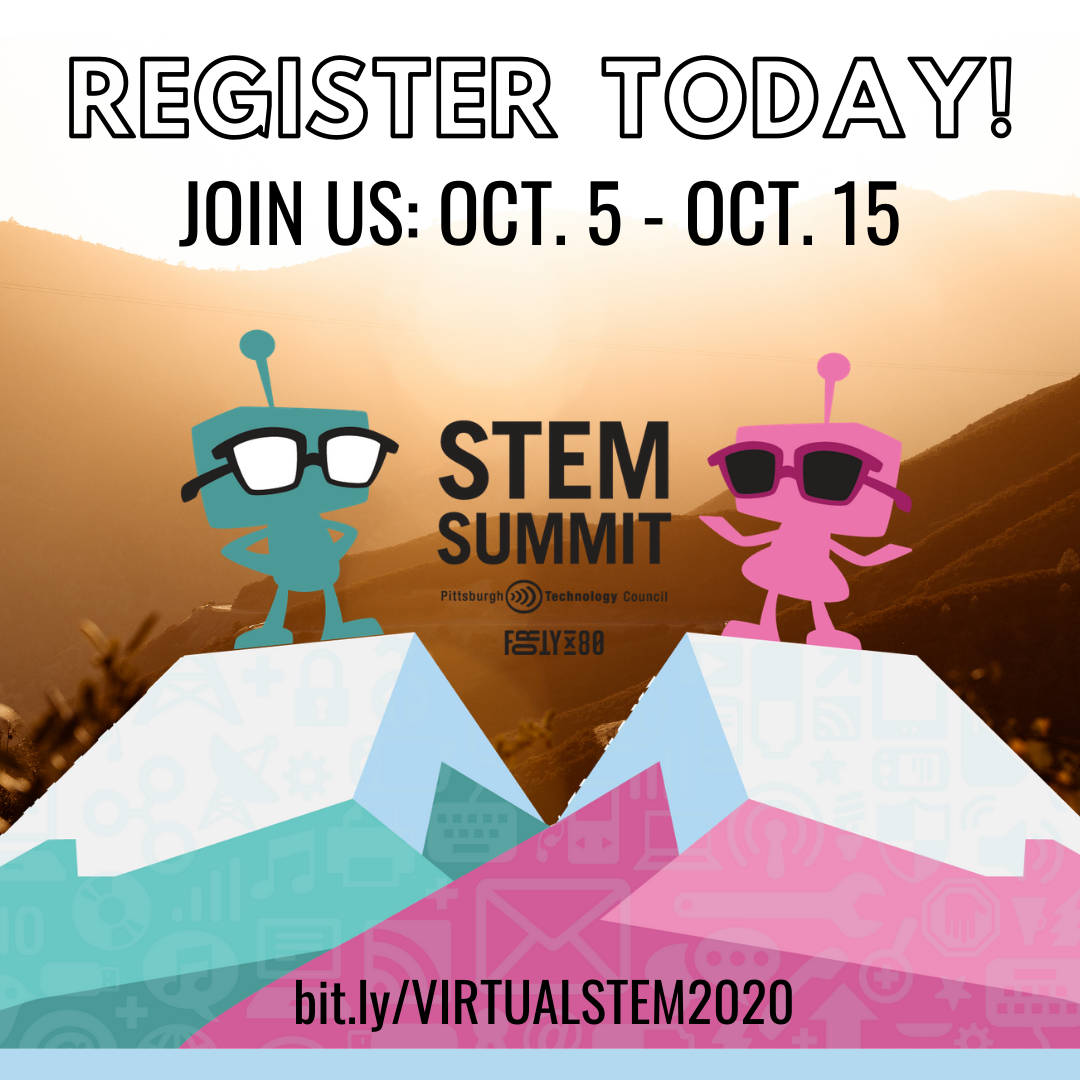 The Pittsburgh Technology Council and FortyX80 announced a second virtual STEM Summit October 5-16, 2020 to feature nine days of tech adventures in the world of STEM. The virtual STEM Summit is designed to help connect regional teachers and students to some of the technology companies that are powering Pittsburgh's growth and innovation.
You can join in on our virtual STEM Summit:
-LIVE through zoom and give your students the chance to engage and ask questions.
-RECORDED versions of our live broadcast to show to multiple sessions to your classes.
-Both! Join live from 10:00-10:45 am and then show the recording to the rest of your classes.

In this virtual model, students will begin by gaining access to eight different remarkable experiences with leaders in the STEM industry. And to add to the engagement and excitement, the students will have the unique opportunity to serve as student hosts, participate through interactive Q&A, and embark on adventures into the workings of the industry.

Who Should Attend?
• K-12 educators, administrators and guidance counselors
• Elementary students, middle school students and high school students
• College/University educators, students, administrators and career counselors
• Business Leaders - Future Employers
Tech Talk Intro
The webinar will begin with an introduction of the company and speaker being featured on the daily Tech Talk.
Student Panelists
Student hosts from participating school districts will ask:
• What was your professional pathway?
• What other roles and professions work within the company?
• What do you love about their job?
• What is your greatest professional accomplishment?
• If a student was interested in this career, what advice would you have for them?
If you have a student that would be interested in co-hosting this event, email Marie Pelloni.
Student Polling
Speaker will toss a question out to the students for them to answer using polling 3-4 times throughout the talk. This will include yes/no, true/false, and multiple choice.

When: October 5, 6, 7, 8, 9 and October 13, 14, 15, 16
Time: 10:00 AM to 10:45 AM
Where: Via Zoom Webinar https://zoom.us/webinar/register/WN_rzegMVFARz6IzBeuocDEQg

Schedule:
October 5 | BirdBrain Technologies, Tom Lauwers, Ph.D., Founder & CEO, Bambi Brewer, Ph.D., Director of Engineering, and Erica Hogan, Operations Coordinator
October 6 | Microsoft, La Recia Tripp, Community Development Specialist
October 7 | Schell Games, Reagan Heller, Vice President of Art
October 8 | Giant Eagle, Heather Feather, Director, eCommerce Technology Systems, Joe Lazzaro, Director, Pharmacy Technology, and Dan Kapalko, Director, Supply Chain Technologies
October 9 | Industrial Scientific, Dani Gais Kwiatkowski, Customer Success Relationship Manager
October 13 | SDLC Partners, Paul Joseph, Intelligent Automation (IA) Service Lead
October 14 | Allegheny Health Network, Stephen Bailey, MD, System Director of Cardiac Surgery
October 15 | Philips Healthcare, Jennifer McHale, Product Manager, Gaurav Trivedi, Senior Software Engineer and Craig Oaks, Senior Software Architect
October 16 | Rivers of Steel, Suzi Bloom, Director of Education and Ryan O'Rourke, Captain and Boat Operations Manager